Energy Intensity Indicators: Electricity Delivered Energy
A kilowatt-hour (kWh) of electric energy delivered to the final user has an energy equivalent to 3,412 British Thermal Units (Btu). Figure E1, below, tracks how much energy was used by the electricity generation sector to produce a kWh of electricity (i.e., heat rate). Until 1988, the data apply to the electric power sector only (i.e., utility sector generators within the electric power sector that are either owned by utilities or by Federal, state, and local governments). With the passage of the Public Utility Regulatory Policy Act (PURPA) in 1978, the electricity industry began a process of restructuring that is still on-going.
Over the past two decades, independent power producers have been permitted to produce electricity and sell it to the distribution network. A major revision of the electricity data in 2002 by the Energy Information Administration now provides information about generators by four different classes: utility sector generators within the electric power sector that produce only electricity and three ownership classes of Combined Heat and Power (CHP) plants - those owned by utilities, those operating as part of the commercial sector and those operating as part of the industrial sector. The heat rate for these four classes of generators is shown in Figure E1, beginning in 1949 for electric-only plants and beginning in 1989 for the three types of CHP plants.
In 1949 central power plants required an average of 14,900 Btu to deliver a kWh of electricity to the final user. By 1965, this average heat rate had dropped to 10,440 Btu per kWh. Thirty-nine years later the heat rate for these same generators is only slightly less - 10,210 Btu/kWh. The performance for commercial and industrial CHP plants, according to this data, are not much better, although they fluctuate and heat rates that are below 10,000 Btu/kWh have been achieved in some years. The most efficient generators, according to these figures, are the CHP plants operated by utilities. In 2004, these plants, used about 9,500 Btu to generate a kWh of electricity which was about a 7% improvement over the electric-only plants.
In the last two years, these numbers changed in ways that seem unreasonable. Between 2000 and 2004, industrial CHP heat rates have increased from 9,830 to 13,240, an increase of almost 35%. Commercial CHP heat rates climbed from 9,890 in 2002 to 12,820 in 2004, an increase of nearly 30% in two years. These changes are the result of a change in the survey form used to collect this data.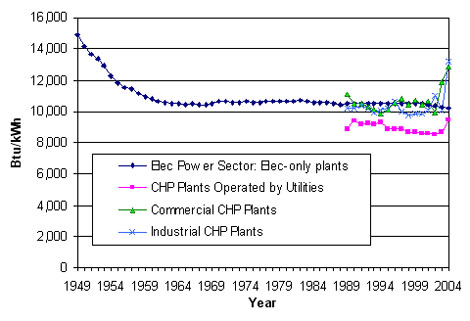 Results based on delivered energy consumption are presented for the period 1985 to 2004.
Activity: Kilowatt hours produced by the electric power sector, the measure of activity used here, has increased by nearly 54% since 1985.
Energy Use: The energy used to produce electricity has increased by 49% over the same period. These figures are shown in Figure E2.
Energy Intensity Index: Figure E2 shows how intensity has changed for all electricity produced since 1985, measured as kilowatt hours per Btu. Figure E3 shows how two different sets of explanatory factors have contributed to the reduction of energy use by this sector. Since 1990, the energy intensity of the electric power sector has declined by about 2.5%, with most of the reduction occurring since 2000.
Changes due to factors unrelated to efficiency improvements: In addition, two structural effects have contributed to the reduction in energy use per kWh of electricity delivered. The first of these, labeled "CHP shift" on Figure E3, show the contribution that using combined heat and power has had on the industry - a modest contribution of about half a percent since 1990. These numbers are shown using a base year of 1990, rather then 1985. "Technology improvements and fuel-mix shifts" are embodied in the second structural measure shown in Figure E2. The improvements in combined-cycle plants (plants that typically burn natural gas in a combustion turbine, then raise steam with the exit gases and use that steam to run a steam turbine) have contributed to some reduction of energy needed to deliver electricity to customers, but this has probably been slightly offset by increased use of other gases (blast furnace gas, propane, and other gases) that are considerably less efficient in the production of electricity.