Energy Intensity Indicators: Transportation Total Energy Consumption
This section contains an overview of both the aggregate transportation sector and the two major subsectors. For further detail within the transportation sector, see the Trend Graphics or download the appropriate Trend Data worksheet.
Results are presented based on total energy consumption for the period between 1985 and 2004.
Activity: Aggregate transportation activity (as measured by weighted average of passenger-miles and freight ton-miles) increased 55%.
Energy Use: Transportation energy use increased by 42%.
Energy Intensity Index: Energy intensity over this period declined 14%. Figure T1, below, shows these trends from 1985 through 2004.
Changes due to factors unrelated to efficiency improvements: The two major subsectors that make up the transportation sector are passenger movement and freight transportation. Within each of these subsectors there have been shifts between highway transport and other modes (air, rail, and water). In the passenger transportation subsector, there has been a dramatic change in the mix of vehicles, with light-duty trucks (e.g., SUVs) increasing their market share over automobiles. In transportation, these shifts are the major "other explanatory factors," that were introduced in the economy-wide indicators. The net impact of these shifts in the mix of transportation modes (called "modal shifts") has contributed to higher energy consumption. As the graph below indicates, the overall impact of these shifts is estimated to have increased transportation energy use by about 7% over the period.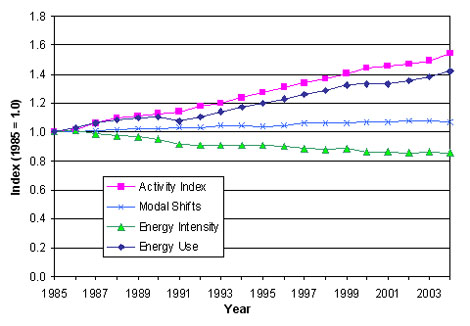 Passenger Transportation - Total Energy
Activity: Since 1985, passenger-miles traveled have increased 59%.
Energy Use: Energy use has increased over 38%.
Energy Intensity Index: The energy intensity index declined by 14.4% from 1985 to 2004, as shown in Figure T2. Much of that decline occurred prior to 1992. The flattening of this decline in the past decade is largely due to a slowing in the decline in average fuel economy (miles-per-gallon) of automobiles and light-duty trucks.
Changes due to factors unrelated to efficiency improvements: Modal shifts in passenger transport, primarily between highway and air transportation, have reduced energy use slightly (on an energy per passenger-mile basis, air travel is less energy-intensive than highway travel). The most significant development has been the changing mix between light trucks and passenger cars. This trend has contributed to about a 2% increase in overall passenger energy consumption since 1985.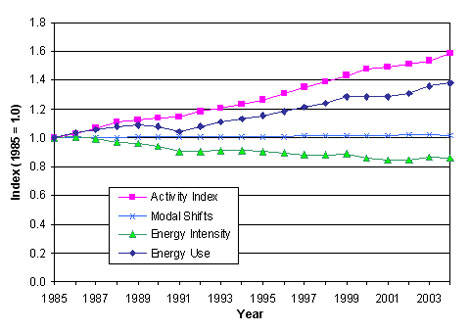 Passenger Transportation Mode Shifts
To better see how the various types of modal shifts have offset each other, the total modal shift is shown in the Figure T3 below, plotted with the modal shift at this aggregate level and the cumulative shifts at lower subsector levels (these indices are plotted on a scale that exaggerates the shifts; note that the index limits fall into about a 5% range). The modal shifts at the aggregate passenger transportation level have contributed to about a one-half percent reduction in energy use between 1985 and 2004 as a result of a changing distribution of passenger-miles between highway, air, and rail transportation. The cumulative effect of modal shifts within the highway, airline, and rail categories (primarily attributed to changes in the mix of vehicles), however, increased energy use by 2.2%. When these indexes are combined, the result is the structural change labeled "Total Structure," and is the net effect (+1.7%) of all of the "other explanatory factors."
The modal and vehicle-mix shifts at the detailed passenger subsector levels are shown in more detail on the Trend Graphics page, or in the downloadable Transportation Data file. These links provide more detail for highway transportation (personal vehicles [autos and trucks] and busses), urban and inter city rail, and air passenger travel.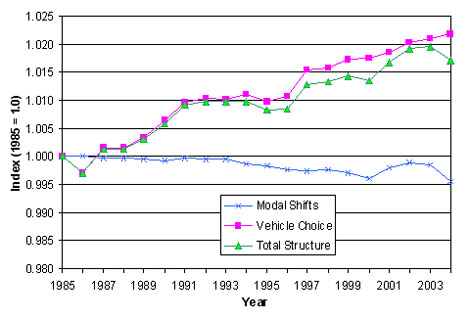 Freight Transportation - Total Energy
Activity: Freight activity, measured in ton-miles traveled, increased over 43% between 1985 and 2004.
Energy Use: Energy consumption grew nearly 53% over the same period.
Energy Intensity Index: Freight transportation energy intensity decreased by almost 14%. Most of this decline occurred between 1985 and 1998. Since 1999, the index has fallen by less than 2%.
Changes due to factors unrelated to efficiency improvements: As shown in Figure T4, both modal shifts at the aggregate level (e.g., shifts between air freight and truck freight) and activity increases have contributed to higher energy consumption, while intensity changes have slightly reduced energy use. Modal shifts account for a nearly a 23% increase in energy consumption over this period. Much of this shift is due to a greater fraction of freight ton-miles being carried via truck and air, as compared to water, rail, and pipelines.