U.S. Department of Energy - Energy Efficiency and Renewable Energy
Energy Analysis
Energy Intensity Indicators: Residential Buildings Total Energy Consumption
The Figure R1 below reports energy use based on total energy consumption, increases in households, increases in house size, a combined structural component that captures many of the "other explanatory factors," and energy intensity, as index numbers, over the period 1985 to 2004.
Activity: Over this period the number of households increased from 86.8 million to 110.7 million (27.5%) while energy consumption increased from 14.7 QBtu to 19.7 QBtu.
Energy Use: Residential energy consumption, measured as total energy (i.e., including electricity losses), has increased by about 34% since 1985.
Energy Intensity Index: The energy intensity index, based upon energy use per square foot, has generally trended downward since 1985, with the greatest declines observed in the early part of the 1990s.
Changes due to factors unrelated to efficiency improvements: As shown in Figure R1, consumption declined in 1990, 1997, 1998 and 2001, years of mild winter weather. The overall effect of non-efficiency related changes has been to increase energy use by about 15.5%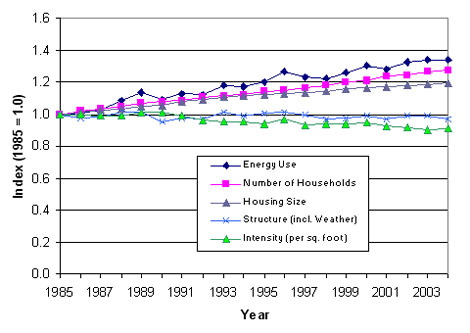 Aside from weather, there are several other explanatory factors that account for energy use that are unrelated to the efficiency of energy use in residences: shifts in the distribution of housing units among regions, and shifts among housing types (from single-family homes to condominiums, for example). The structural index (see structural change under Terminology & Definitions) shown above is a composite of these shifts that also includes the effect of weather, which has a much greater short-term influence on energy consumption than do regional or housing-type shifts. The regional and housing-type shifts together account for the less than a 1% decline in energy consumption over the 1985-2004 time frame.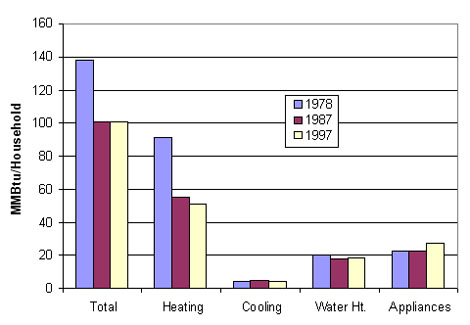 Figure R2, above, shows that energy use per household declined substantially over the period 1978-1987, but has changed little, in aggregate since then. While total energy use has remained static between 1987 and 1997, heating and cooling energy use has declined over this period, while appliance energy use increased enough to offset the declines in other end-uses, thus holding total energy use about the same. (These estimates were based upon the Residential Energy Consumption Survey (RECS), a household survey conducted periodically by the Energy Information Administration).