U.S. Department of Energy - Energy Efficiency and Renewable Energy
Energy Analysis
Analysis Snapshots
Subscribe to receive email updates about current policy and analysis topics.
The Analysis Snapshot Series provides timely and accessible "snapshots" about the state of knowledge for today's key energy efficiency and renewable energy topics.
The snapshots digest longer analyses by the EERE Policy and Analysis team into two-page, image-rich documents appropriate for many types of readers. They can serve as an entry point into related, more detailed resources and aim to stimulate productive conversation across a number of today's important energy issues.
Readers who may be interested include Congressional members and staff, energy and environment organizations, academics, investors, and anyone seeking to learn more about energy and partner with EERE.
Current Snapshots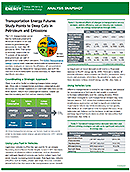 March 2013
This Snapshot is a summary of the EERE reports that provide a detailed analysis of opportunities and challenges along the path to a more sustainable transportation energy future.