Chicago, Illinois
Chicago Maps out a Plan to Meet Long-Term Energy Efficiency Goals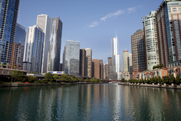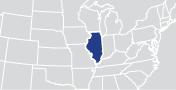 Progress Within 2.3 Years of Program Launch*
10,761
residential evaluations completed
4,170
residential energy upgrades completed
35
residential loans provided (for a total of more than $1.8 million)
45
commercial evaluations completed
*Progress is reported through June 2013.
The Windy City is making strides to promote energy efficiency upgrades as part of its 2008 Chicago Climate Action Plan and the longer term GOTO2040 Strategic Plan. To help the region meet its short- and long-term goals, the Chicago Metropolitan Agency for Planning (CMAP) and other partners created Energy Impact Illinois (EI2) using $25 million in seed funding from the U.S. Department of Energy's Better Buildings Neighborhood Program to promote energy efficiency improvements in single-family homes, multifamily housing units, commercial/industrial, and commercial/nonprofit buildings.
Driving Demand: Web Resource Customizes Options for Four Building Types
Financing: A Variety of Financing Options
Workforce Development: Beefing Up the Workforce
Web Resource Customizes Options for Four Building Types
As part of the EI2 program, utilities and other organizations are offering free or discounted energy evaluations, rebates for improvements, and other incentives to upgrade Chicago buildings in four sectors: single-family homes, multifamily residences, commercial and institutional buildings, and government and nonprofit facilities.
To make it easy for property owners to identify potential energy saving opportunities, EI2 developed an interactive website that generates suggested energy savings measures for home and building owners and the associated costs of implementing them. It also provides do-it-yourselfers with installation information; connects users with appropriate home improvement professionals and contractors, and offers available rebates or incentives for specific upgrades. To date, more than 3,100 unique visitors have been to the website.
Once on the site, single family homeowners can also enter their address to find out their MyHomeEQ score, which shows the total energy consumption of their home per square foot. MyHomeEQ also compares their home to other homes in the neighborhood, provides suggestions for upgrades and improvements, and puts the owner in contact with contractors in their area. EI2 is working to get this the energy score posted on the multiple listing service (MLS) for real estate, which could increase the perceived value of homes for sale.
Also available on the EI2 website is the EnCompass Commercial Building Energy Tool, which helps owners and managers of commercial buildings larger than 250,000 square feet understand a building's energy use and savings potential and navigate through the steps and measures that will move a building towards energy savings.
"With so many possible choices, the process can seem complex. We are making it easier for people to save both money and energy, and to live more comfortably."
Randy Blankenhorn
Executive Director, Chicago Metropolitan Agency for Planning
A Variety of Financing Options
EI2 has developed financing options to best meet diverse property owners' needs across various building sectors.
For single-family homeowners, EI2 offers a low interest, unsecured, 5 to 7 year loan, the proceeds from which will regenerate the loan fund. In addition, EI2 has developed two residential pilot programs that offer incentives on top of the loans. The first is an employer-assisted housing retrofit program in which homeowners have the option to receive upgrades; up to $3,000 is provided by EI2 as an incentive, and participating employers match that amount. The second is an Illinois Home Performance Rebate Program in the city of Rockford, which provides multitier rebates depending on the level of energy efficiency achieved in the home.
Owners of low to moderate income multifamily housing units can access low-interest rate loans through the Energy Savers program, which provides a 3% interest rate for a 7 to 10 year term and is considered one of the leading multifamily retrofit programs nationwide.
Partners
Chicago Metropolitan Agency for
Planning
City of Chicago Department of
Environment
City of Rockford
Illinois Department of Commerce
and Economic Opportunity
Northshore Gas
ComEd
Nicor
Northern Illinois Energy Project
EI2 has also established a variety of commercial financing programs. The first is a loan loss reserve and revolving loan fund in place for commercial/industrial energy efficiency projects that utilizes managed energy services agreements, or MESAs, provided through Transcend Equity Development Corporation. Under this financing model, Transcend assumes the energy costs of the building for a period not to exceed 10 years. For the duration of this agreement, the building owner pays Transcend its historical energy costs, adjusted for rates, weather, and occupancy. Transcend invests in the energy efficiency upgrades for the building and uses the savings produced from these upgrades to recoup its investment. In addition, EI2 offers a $10 million nonprofit commercial revolving loan program and loan loss reserve through IFF, a nonprofit lender and real estate consultancy that provides low-interest energy efficiency financing to nonprofit building owners.
Beefing Up the Workforce
Contractors working on EI2 projects must meet Illinois Home Performance with ENERGY STAR® criteria, which include Building Performance Institute (BPI) standards for energy evaluations and upgrades; BPI certification; and proof of experience/customer satisfaction. EI2 will provide training about the financing options, incentives, and rebates available to help contractors close the deal with building owners. As the EI2 program grows, it will provide greater contractor support activities such as on-the-job training for new workers, so that the program maintains a high-functioning workforce that delivers consistent and timely energy upgrade work.
Contact
Dan Olson
Senior Energy Efficiency Planner
dolson@cmap.illinois.gov
312-386-8760
Emily Plagman
Energy Efficiency Project Coordinator
eplagman@cmap.illinois.gov
312-676-7460
U.S. Department of Energy
Better Buildings Neighborhood Program
BetterBuildings@ee.doe.gov