Omaha and Lincoln, Nebraska
Nebraska's Largest Cities Blaze a Trail for Energy Efficiency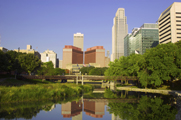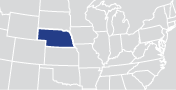 Progress Within 2.4 Years of Program Launch*
1,704
residential evaluations completed
959
residential energy upgrades completed
61
commercial evaluations completed
17
commercial energy upgrades completed
40
workers trained
44
workers certified
*Progress is reported through June 2013.
Without an existing energy efficiency program in place, Nebraska's two largest cities—Omaha and Lincoln—decided to make energy efficiency upgrades more accessible to residents, businesses, and organizations and set an example for smaller communities in the state. With $10 million in seed funding from the U.S. Department of Energy's (DOE's) Better Buildings Neighborhood Program, the reEnergize Program is starting this new energy efficiency market in historical downtown neighborhoods, where much of the building stock was constructed before 1940.
Using a phased implementation approach, reEnergize plans to help single and multifamily homes and commercial and nonprofit buildings make energy efficiency upgrades that will reduce energy use by at least 25%. Two-thirds of these upgrades will take place in Omaha, and the remaining one-third in Lincoln, proportionate to the size of each city's population.
Program Design: Program Design Ensures Serious Participants—and Savings
Workforce Development: Bundling Bids Helps Solidify Jobs in Competent Companies
Financing: Financing for All Income Levels
Program Design Ensures Serious Participants—and Savings
To kick the program off, reEnergize is first targeting neighborhoods, or Start Zones, with older, inefficient building stock that is in need of revitalization.
To ensure that homes will be able to achieve the desired 25% energy reduction, reEnergize asks homeowners to allow the program to review their previous 12 months of energy bills. Once approved by the program for participation, homeowners can reserve a spot in the program for $250, and this fee will go toward their recommended upgrades.
Participants are assigned a personal energy navigator, who schedules an energy efficiency evaluation, identifies cost-effective upgrades, explains financing options, and locates a skilled contractor to complete the improvements. Participating homes also receive a healthy homes review; if health or safety issues exist, they need to be remedied before energy efficiency measures are addressed.
"As the two largest cities in Nebraska, we have a duty to lead by example. This program will foster innovation, provide jobs, and help move our great cities forward."
Jim Suttle
Mayor, Omaha
In addition to home energy evaluations, reEnergize will help participants finance improvements, the average cost of which is $6,500. The program will provide $3,000 for energy efficiency upgrades, and the homeowner pays the remaining $3,500. If the cost of all of the energy improvements needed is less than $3,500, the homeowner will pay for the whole upgrade, with a $500 incentive from reEnergize. If the improvement is more than the $6,500 average, the homeowner can apply for a low-interest loan to offset the additional cost. Savings from the average upgrade equate to $400 to $600 saved per year in energy costs.
The reEnergize Program was one of 11 testing locations for Home Energy Score, a program sponsored by DOE. A Home Energy Score allows homeowners to compare their energy consumption with other homes, similar to a vehicle's miles-per-gallon rating.
Commercial and nonprofit building owners can also submit applications demonstrating their plans to upgrade facilities, and reEnergize will provide an energy evaluation, recommendations, ratings, and a return on investment report. Business owners are assigned a personal navigator to shepherd them through the process.
Bundling Bids Helps Solidify Jobs in Competent Companies
Partners
Archi+etc LLD
Ayars & Ayars Inc.
City of Lincoln
City of Omaha
Community ReDesigned
Energy Pioneer Solutions
HDR Engineering
ME Group
Nebraska Workforce
Development
Metropolitan Community College
What Cheer!
To facilitate the contracting process and maximize the contractor's time, reEnergize is bundling residential and commercial participants into multi-project contracts. Contractors bidding on bundled projects are chosen for their ability to deliver upgrades within a set timeframe. Bundling also helps participants achieve savings through economies of scale discounts.
Contractors are required to meet preset qualifications to be eligible to bid on reEnergize projects. These qualifications include adhering to wage requirements, working hour limitations, and other community high-road agreement criteria. Workforce training is provided in partnership with the Nebraska Workforce Development, local community colleges, and unions.
Financing for All Income Levels
To streamline the application process for residents and provide low-interest loans for those who need help meeting the matching payments for upgrades or for projects going beyond the average cost for upgrades, reEnergize works with the Nebraska Energy Office's Dollar and Energy Savings Loan Program, an established financing program. The reEnergize Program also established a $1 million loan loss reserve fund to help residents whose incomes are too high to qualify or because their credit score is too low to secure affordable loans.
Contact
Kristi Wamstad-Evans
kristina.wamstad-evans@ci.omaha.ne.us
402-444-6731
Milo Mumgaard
mmumgaard@lincoln.ne.gov
402-441-7376
U.S. Department of Energy
Better Buildings Neighborhood Program
BetterBuildings@ee.doe.gov