U.S. Department of Energy - Energy Efficiency and Renewable Energy
Building Technologies Office – Run a Program
Step 8: Evaluate Program Performance
After the financing program has been launched, you will need to manage and oversee the program to ensure its continued success. An important consideration is to determine how you can best monitor program performance with the intent of continuously improving processes.
Making mid-course corrections depends, of course, on the evaluation of your program's performance and processes. It is important to design programs with evaluation in mind at the very beginning. Indeed, evaluation and program design activities are inextricably linked, as the figure below demonstrates.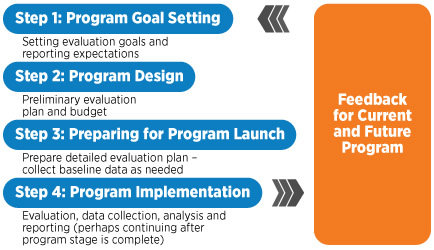 Because of this link between program design and evaluation, you will need to determine the measures of success and timelines for achieving objectives simultaneously with developing the parameters of your program. For example, if an objective of your program is to provide fast and easy loan approvals, you will need to develop systems for capturing and verifying the number of days that loan applications are completed and loans are closed. Other evaluation measures or metrics may include:
Market share thresholds in certain communities or subsectors
Energy savings
Jobs created
Emissions reduced.
For each measured parameter, your staff and all involved partners need to understand:
What data are being collected
How and when to collect data
How to store the data for reporting purposes.
To the extent that any one of these metrics is not consistent with program goals, you should seek out the reasons why and develop appropriate remedies.
If budget allows, you might also consider hiring an independent evaluator, if necessary, to assess the impacts, attribution, and effectiveness of the program.
By considering evaluation practices at the time you design your program, you will be in a better position to identify and avoid costly problems down the road. Energy professionals, if included in the program design stage, can help you develop clear and logical processes for establishing metrics, measurement systems, and continuous improvement processes.
<< Previous: Financing Step 7 | Next: Financing Step 9 >>