U.S. Department of Energy - Energy Efficiency and Renewable Energy
Building Technologies Office – Better Buildings Partners
Indianapolis, Indiana
Indianapolis, Indiana
Indianapolis Scores Better Buildings for a Deserving Community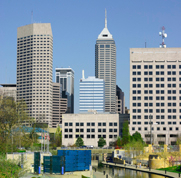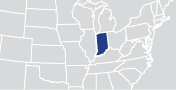 Progress Within 2.4 Years of Program Launch*
1,222
residential evaluations completed
923
residential energy upgrades completed
97
residential loans provided (for a total of more than $724,000)
28
commercial evaluations completed
8
commercial energy upgrades completed
12
workers trained
*Progress is reported through June 2013.
City of Indianapolis Better Buildings Program
Near Eastside Neighborhood Sweeps Program
EcoHouse Project
Lafayette Energy Improvement Program
Location:
Indianapolis and Lafayette, Indiana
Seed Funding:
$10 million
Target Building Types:
Residential, commercial, and nonprofit
Websites:
www.inhp.org/loans/Home-Improvement/EcoHouse
Learn More:
Read Case Study:
Using Credit Enhancements to Leverage Existing CDFI Capacity: Indianapolis EcoHouse Project Loan Program, Lawrence Berkeley National Laboratory, April 4, 2012
Read Press Releases:
INHP Gives Homeowners Access to Up to $3000 in Incentives for Home Energy Efficiency Upgrades, March 12, 2012
Energy Efficiency Loan Program Will Help Homeowners Afford Upgrades, June 1, 2011
View Presentations:
Better Buildings Grantees: Retrofits in Low-Income Communities
April 12, 2011
As host of the National Football League's 2012 Super Bowl, the City of Indianapolis has identified a super opportunity to increase energy efficiency in a state that receives 95% of its electricity from coal-burning power plants and ranks second in the nation in per capital carbon emissions.
With $10 million in seed funding from the U.S. Department of Energy's Better Buildings Neighborhood Program, the City of Indianapolis and its partners initiated the City of Indianapolis Better Buildings Program. The project acts as a catalyst for energy efficiency improvements throughout Indianapolis, creating a subset of programs called the Near Eastside Neighborhood Sweeps program and the EcoHouse Project loan program.
The Near Eastside, which has experienced significant economic and population decline over the past 30 years, will benefit from improvements in homes, small businesses, and nonprofit and community centers long after the Super Bowl is over. In addition, the EcoHouse Project expects to help homeowners make upgrades with loans. The City of Indianapolis Better Buildings Program also includes a subgrant to promote energy efficiency upgrades in residences in Lafayette, Indiana, about an hour northwest of Indianapolis.
Near Eastside: Energy Efficiency Sweeps Neighborhood
Lafayette: Demonstration House Promotes Program
EcoHouse Project: Financing Takes Improvements Further
Energy Efficiency Sweeps Neighborhood
A significant amount of rehabilitation activity has already occurred in the Near Eastside community as part of the Super Bowl Legacy Project, a project that funded renovation and new construction in the neighborhood. The City of Indianapolis chose to piggy-back on the positive momentum of neighborhood improvement in this area. Indianapolis estimates that many of the homes in the Near Eastside neighborhood were built in 1935 or earlier—a time when little or no insulation was incorporated into construction. For some, the cost of electricity is more than their monthly rent or mortgage. To market energy efficiency to residents and small business owners in this area, the City of Indianapolis initiated the Near Eastside Neighborhood Sweeps Program, which is designed to make energy efficiency improvements more cost-effective by using the combined demand/purchasing power of neighborhood blocks.
During a pre-application period in early 2011, energy advocates collected more than 950 interested parties—150 more applications than the program can accommodate. After the pre-application period, energy advocates from the local community center worked to convert pre-applicants to full applicants.
"It's important that residents are able to make energy efficiency improvements in their homes. The more efficient use of energy results in less money spent on energy—money that can instead be used to improve quality of life, such as education, consumer goods, and services."
Greg Ballard
Mayor, City of Indianapolis
Once accepted, homes receive a free energy evaluation, some quick energy saving measures, and energy efficiency upgrades of up to $1,500 for residents and $2,000 for small businesses based on the energy evaluation recommendations. The targeted nature of the sweep maximizes the cost effectiveness of labor, because home energy and improvement professionals don't have to travel far distances, and it allows for bulk purchases of energy efficiency equipment. This program has completed hundreds of energy evaluations and more than a hundred upgrades as of April 2012, and many homeowners have gone on to complete additional upgrades with assistance from the EcoHouse loan program.
Demonstration House Promotes Program
The City of Indianapolis Better Buildings Program is also promoting energy efficiency improvements in Lafayette with a neighborhood sweep method. Focusing efforts on the neighborhoods of Glen Acres and Vinton, eligible households will receive upgrades totaling $9,000 and will include improvements such as air sealing and insulation; home ventilation and air conditioning equipment; and hot water heater and window replacement.
To promote the upgrades to the community and act as an educational tool, the program has created a demonstration house with the latest in energy-efficient technology. The demonstration house is used to model energy-efficient technologies and encourage homeowners to make energy-efficient improvements. It also serves as an educational tool for home energy and improvement professionals for how to make upgrades.
Partners
City of Indianapolis
Department of Public Works—
Office of Sustainability
City of Lafayette
John H. Boner Community Center
Indiana Office of Energy
Development
2012 Super Bowl Host
Committee
Financing Takes Improvements Further
Partnering with the Indianapolis Neighborhood Housing Partnership (INHP), a community development financial institution (CDFI), the City of Indianapolis Better Buildings Program created the EcoHouse Project, a loan program supported by a loss reserve that targets low to moderate income households. The loan term is for up to 10 years with a competitive interest rate. Although anyone can apply for a loan through the EcoHouse Project, the program is targeting the sweep participants in the Near Eastside for deeper energy efficiency improvements with this financing option.
INHP also informs homeowners of rebates from local utilities for energy efficiency improvements, including furnaces, water heaters, boilers, programmable thermostats, compact florescent lightbulbs, and qualifying renewable energy projects. Citizens Gas is also providing funds for weatherization projects through the EcoHouse Project to help offset the cost of efficiency upgrades.
Contact
Kristen Trovillion
Kristen.Trovillion@indy.gov
U.S. Department of Energy
Better Buildings Neighborhood Program
BetterBuildings@ee.doe.gov