U.S. Department of Energy - Energy Efficiency and Renewable Energy
Building Technologies Office – Run a Program
Step 6: Make Your Workforce True Partners
Every building energy efficiency upgrade program across the country relies on a local skilled workforce to deliver energy efficiency services. Participating energy professionals are among your most critical partners for ensuring high-quality delivery of energy upgrades to home and building owners in your area. Engage with these energy professionals as true collaborators in your program design and delivery, and check in with them regularly to achieve greater success.
Create Frequent Opportunities for Gathering Feedback
Help Contractors Succeed by Adjusting to Real-Time Challenges
Partner for Marketing and Promotional Efforts
Create Frequent Opportunities for Gathering Feedback
Create forums that allow participating energy professionals to provide feedback on your program during the planning phases and throughout implementation. This engagement will help improve your program offerings based on your energy professionals' on-the-ground experiences, while also keeping participating energy professionals motivated and interested in the success of the program.
Some options for keeping open lines of communication with your workforce include:
Hosting regular open meetings or calls (at times that are convenient, in light of people's work schedules)
Assigning a representative from participating energy professionals to bring up issues to program managers
Designating a particular program staff person as the main point of contact for energy professional partners.
In addition to hosting regular meetings or forums for receiving contractor feedback, programs may want to occasionally survey energy professionals who are or are not part of the energy upgrade program to obtain feedback on how the program is doing.

The Better Buildings Neighborhood Program has designed sample surveys to help gauge a program's successes and shortfalls. The starting point for most programs will be a menu of initial questions to build on and develop a real-time evaluation survey to collect qualitative data from contractors. In addition, programs may find an example phone survey for contractors to be useful.
Pre-Launch Coordination
Once draft promotional plans were in place for its Best Offer Ever program, Austin Energy hosted a breakfast meeting—getting on their energy professionals' schedules before they were out in the field for the day—to discuss plans over tacos and coffee. Contractors provided feedback on the launch plans, received sample forms, and were trained on how to use them. The contractors were also candid about their involvement in implementing the offer. Most contractors had not actively marketed financing options before, so Austin Energy walked the group through each party's role and responsibility in the loan process. To find out more about how Austin Energy is partnering with contractors, see the case study Spotlight on Austin, Texas: Let Your Contractor Be Your Guide for Big Rewards.
Help Contractors Succeed by Adjusting to Real-Time Challenges
Even with extensive planning, every program will experience unexpected challenges. Maintaining open lines of communication with participating energy professionals will enable program administrators to adjust to situations as they arise. Engaging partners to find solutions in areas over which they have some control (e.g., work orders, evaluation reports) will help maintain buy-in, while recognizing challenges that are beyond their scope (e.g., customer financing, tax questions) and generating solutions will engender appreciation.
Program as Problem Solver
As energy professionals completed home energy upgrades during Austin Energy's initial promotion, the program carefully monitored customer demand. One unanticipated challenge that Austin Energy overcame was the expiration of loan preapprovals due to high demand for contractor services. Contractors were so overwhelmed with work that loan preapprovals were expiring before the energy upgrades were completed. This situation was costly for the lender, burdensome for program participants, and challenging for energy professionals. Austin Energy responded by working with the lender to send out weekly notices to participating energy professionals to keep them informed of when their customers' loan prequalifications were due to expire so that they could prioritize those jobs in their work schedules.
To find out more about how Austin Energy is responding to contractors, see the case study, Spotlight on Austin, Texas: Let Your Contractor Be Your Guide for Big Rewards.
Temporary Labor Pool Eliminates Upgrade Bottleneck
One year into the launch of NeighborWorks of Western Vermont (NWWVT), its weatherization contractors were struggling to keep up with the surging demand for home energy upgrades. At the same time, contractors were reluctant to hire additional employees because of seasonal variability—demand for home energy upgrades in Vermont peaks in the fall and decreases in the spring and summer. To help contractors find the support they needed to reduce project delays—which also helps keep customers happy—NWWVT established a nonprofit temporary labor pool called LaborWorks@NeighborWorks. Temporary workers were sorted into two tiers: those with minimal or no weatherization training and those with weatherization experience or certifications. When a NWWVT contractor needs an additional worker, a LaborWorks coordinator is given 48 hours' notice. LaborWorks then matches an available worker from the temporary pool with the contractor's project description (e.g., nature of work, location, dates of employment). To find out more about NWWVT's temporary contractor pool, explore the Focus Series interview.
Energy professionals have direct contact with building owners and operators and can be the best promoters of their services and of your program. Their job is easier when they have good leads to owners who are really interested in making upgrades and when they have compelling marketing materials to leave behind.
Sales and marketing campaigns can be expensive for program administrators and energy professionals alike. One approach that some Better Buildings partners are using is to invest in high-quality materials that participating energy professionals can customize and produce. This tactic reduces the program's production costs, increases brand recognition, and helps the energy professionals look more professional.
Marketing Tools at the Ready
Energy Upgrade California in Los Angeles County understood that contractors, who are in the home interacting with customers on a daily basis, have an important marketing and outreach role to play. To help contractors easily and efficiently access the tools required to make their marketing and promotional efforts more productive and efficient, the program developed an online marketing materials database. Contractors can log in to get the materials they need, when they need them. Products in the database include: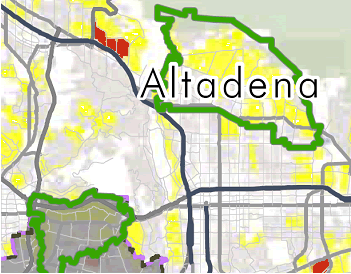 Consumer brochures
Lawn sign graphics
Web-ready banners and buttons for the contractors' websites
Spot-ads and short program movies that can be embedded in the contractor's websites
Market area maps
The market area maps help contractors direct their outreach efforts to parcels that are deemed to be "retrofit-ready" or "retrofit-persuadable." The homes are differentiated according to a set of criteria. For instance, retrofit-ready homes are owner-occupied, have income levels of $75,000 to $150,000, house four or more people, and were built before a certain date. This sample of market area map shows retrofit-persuadable homes in the yellow areas and retrofit-ready homes in the red areas.
<< Previous: Workforce Development Step 5b | Next: Workforce Development Step 7 >>