Step 2: Determine How Energy Professionals Fit Into Your Program Model
By establishing up front how your program will deliver home energy upgrade services, you can determine what types of energy professionals you will need in order to implement your program. You can then start identifying your workforce's training and certification needs.
Choose a Service Delivery Model
Create Your Own Service Delivery Model
Choose a Service Delivery Model
Two types of service delivery models are commonly used in the energy upgrade industry: 
An integrated model, in which the same energy professional identifies and implements improvements and performs a retest of the home.
A third-party model, in which an energy expert identifies areas for improvement, a separate professional completes the improvement, and a third party (which may be the initial energy expert) verifies that the work was completed correctly.
You can use the chart below to help determine the model that will best meet the needs of your program.
 

 

Pros

 

 

Cons

 

INTEGRATED MODEL

With fewer professionals involved, home energy upgrades are easier to administer. The upgrade may also require less oversight and guidance because the contractor understands the scope of work from the very beginning.
Homeowners may find it easier to deal with only one organization.
Conversion rates (i.e., turning home energy evaluations into actual energy upgrades) are typically higher, which can make the work more profitable for the contractor.
The home energy evaluation can be less expensive for the homeowner because it is absorbed as part of the overall work scope.

The potential for conflicts of interest, real or perceived, increases when the same person/firm that identifies upgrade opportunities also performs the work.
Without a third-party verifier, quality checks might be less rigorous.
Mediation and resolution may be needed if an issue arises.

THIRD-PARTY MODEL

The separation of responsibilities helps guarantee that the recommended upgrades are in the best interest of the homeowner.
Third-party evaluation can provide additional quality assurance.
The probability that the homeowner will receive a comprehensive set of upgrade recommendations is higher.

With two or more different companies involved, task coordination and workflow management can be more challenging.
After the energy evaluation, homeowners might be less likely to pursue energy upgrades because more time and effort is required on their part to find qualified contractors to perform the necessary work.
Create integrated success. If an integrated approach makes sense for your program, be sure to:

Monitor recommendations for upgrades that are routinely more profitable to a contractor to ensure that consumers are getting unbiased recommendations.
Require a verification plan with provable measures for quality assurance.
Provide a process for conflict resolution.

Assure quality installation. If a third-party verification model makes sense for your program, be sure to:

Incorporate a workflow management system to reduce the likelihood of slowdowns between steps.
Offer homeowner support and guidance to reduce complexity and confusion.
Provide lists of qualified energy experts and upgrade professionals to consumers.
A Mixed Model
Austin Energy's Clean Energy Accelerator Program follows an integrated model but adds an additional verification step.
Participating contractors conduct residential evaluations at no charge to the homeowner. They provide the homeowner with a proposal and cost estimate for the recommended energy upgrade. Homeowners are not limited to the number of evaluations they can have. Once all the evaluations have been completed and the homeowner selects the specific contractor and proposal for the energy upgrade work, Austin Energy performs an in-house evaluation (i.e., a "verification") with the contractor and homeowner to ensure that the proposed measures are appropriate for that particular home.
According to Austin Energy, a trained contractor can make energy improvement recommendations as easily as and less expensively than a third-party auditor. The contractor can also provide cost estimates for energy upgrades during the same visit. Austin Energy's verification process, in turn, confirms or makes additional or alternate recommendations. The program's conversion rates (i.e., the rate at which an evaluation is turned into an upgrade) are very high.
To find out more about how Austin Energy is working with contractors, see the case study, Spotlight on Austin, Texas: Let Your Contractor Be Your Guide for Big Rewards.
Create Your Own Service Delivery Model
Better Buildings Neighborhood Program partners are creating new models that work best for delivering energy upgrade services in their neighborhoods. For example, many programs are having success by taking elements from the integrated model and mixing them with elements from a third-party model.
A Model of Their Own
Seattle's Community Power Works has been successful using two variations of the third-party model. By providing a full service delivery model and a flexible service delivery model, the program enables Seattle homeowners to choose the level of energy advising that works best for them. With both options, homeowners benefit from third-party quality control.
Under the full service model, Home Delivery Partners, a group of three full-service organizations, serve as contractors that provide energy efficiency assessments and upgrade services. At the completion of a project, a Home Retrofit Coordinator from the program acts as a third party and conducts a post-upgrade audit to ensure the quality of the improvements. Home Delivery Partners and the Home Retrofit Coordinator guide the homeowner through each step of the process with a high level of personal assistance. While this approach is more resource-intensive than the flexible service model, it helps some homeowners feel more at ease with the home energy upgrade process and therefore more likely to complete the improvements.
Under the flexible service model, homeowners who are more comfortable moving through the home energy upgrade process can decide how much help they want or need. Homeowners visit a Web portal where they can select an auditor to conduct an energy evaluation and a contractor to complete the upgrade. Following the upgrade, the Home Retrofit Coordinator provides the quality assurance verification. This "light touch" model generates online leads for the contractors and is a lower cost option for the program.
Each model is shown in the chart below: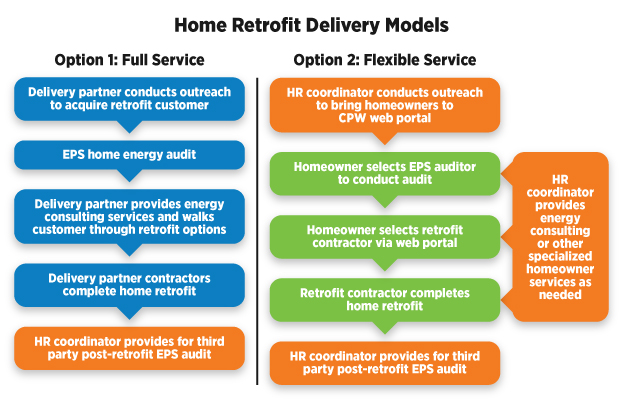 << Previous: Workforce Development Step 1 | Next: Workforce Development Step 3 >>