Advanced Energy Retrofit Guides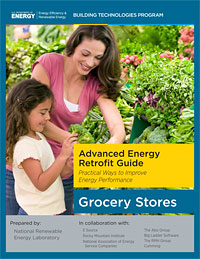 The Advanced Energy Retrofit Guides (AERGs) were created to help decision makers plan, design, and implement energy improvement projects in their facilities. With energy managers in mind, they present practical guidance for kick-starting the process and maintaining momentum throughout the project life cycle. These guides are primarily reference documents, allowing energy managers to consult the particular sections that address the most pertinent topics.. Useful resources are also cited throughout the guides for further information. Each AERG is tailored specifically to the needs of a specific building type, with an emphasis on the most effective retro-commissioning and retrofit measures identified by experts familiar with those unique opportunities and challenges. The guides present a broad range of proven practices that can help energy managers take specific actions at any stage of the retrofit process, resulting in energy savings for many years to come.
One of the most important gaps in the current literature is reliable and actionable cost and energy savings methods and data. The AERGs address this gap by providing very comprehensive analytical methods for calculating the cost-effectiveness of retrofit measures. These methods are supplemented by examples using the Pre-1980s Commercial Reference Buildings, and by detailed case studies demonstrating how organizations have successfully implemented similar measures in commercial buildings. All of the AERGs are available for free download:
An AERG for health care facilities is also currently under development.