Commercial Building Energy Asset Score Tool Report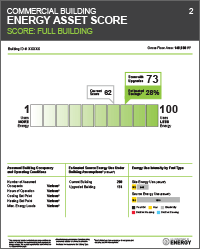 The Energy Asset Score report will be comprised of four sections:
Current Asset Score—The source EUI is obtained by performing the whole-building energy simulation using the asset scoring tool; the modeled source EUI is adjusted to account for local climate; the adjusted EUI is compared to a fixed scale to obtain an asset score of 1 to 100.  An asset score of 100 represents an ultra-efficient building; a score of 1 represents a very inefficient building in the current commercial building stock.  After a building upgrade package is identified, the energy asset scoring tool will calculate the potential energy use after upgrades using standard operating conditions (by use types).
Structures and Systems—System evaluations are provided for the building envelope (roof, wall, window) and building systems (heating, cooling, lighting and service hot water). This information can help you identify the part(s) of the building in need of attention.
Opportunities—Upgrade opportunities are identified in the building envelope and building systems (heating, ventilation, cooling, lighting and service hot water).
Building Assets —The list of building characteristics that are entered into the model to generate the asset score are provided.
A sample report is also available for review.