Commercial Building Research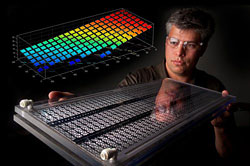 The Building Technologies Office (BTO) researches advanced technologies, systems, tools, and strategies to improve the energy performance of commercial buildings. Industry partners and national laboratories help identify market needs and solutions that accelerate the development of highly energy-efficient buildings. This page outlines some of BTO's principal research projects. For more BTO research results, visit the Commercial Buildings Resource Database.
BTO is monitoring hospital energy end uses to help facility and energy managers identify ways to save energy. This research ultimately will help hospitals improve energy efficiency, freeing up funding to improve healthcare services.
The U.S. Life Cycle Inventory Database provides data related to the total energy and resource impacts of producing a material, component, or assembly. Life cycle assessments are critical to evaluating the true environmental impact of buildings, and serve as a guide for selecting components for any project.
BTO is working to standardize the measurement and characterization of building energy performance through performance metrics. Reports provide guidelines to help measure, document, and evaluate energy performance.
Developed by DOE and three of its national laboratories to better inform researchers and builders working to build and renovate highly-efficient buildings, reference buildings provide complete descriptions for whole building energy analysis using EnergyPlus simulation software. These modules offer a consistent baseline of comparison and improve the value of computer energy simulations using software such as EnergyPlus.