Building America Climate-Specific Guidance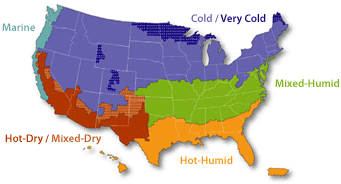 Building America's Best Practices handbooks and case studies demonstrate real world solutions for improving the energy performance and quality of new and existing homes in five major climate regions. By organizing guides by climate region, the U.S. Department of Energy (DOE) helps builders find information specific to the region where they are operating.
You can also use the map to access the Best Practices Series handbooks and case studies by climate zone.
Solutions that Work Across Climates
DOE has developed several building solutions that work across climate regions.
For additional, updated information on hundreds of building science topics that can help you build or retrofit to the most recent high-performance construction criteria, including the latest version of ENERGY STAR and the DOE Challenge Home requirements, see the Building America Solution Center.