Guides and Case Studies for Marine Climates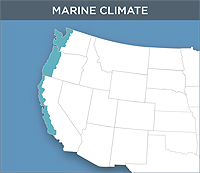 The Department of Energy (DOE) has developed a series of best practices and case studies to help builders improve whole-house energy performance in buildings found in marine climates.
Best Practice Guides
New Construction Case Studies
California
Project: Villa Savona Homes — Fremont
Builder: SummerHill Homes
Profile: Community of high performance homes incorporating superior insulation, sealed ducts, high efficiency furnace, low-e windows.
Project: Vista Montana — Watsonville
Builder: Clarum Homes
Profile: Builders Challenge spotlight on nation's largest zero energy community featuring photovoltaic (PV) systems, tankless water heaters, high efficiency furnaces.
Washington
Project: Custom Home - Coupeville
Builder: Clifton View Homes
Profile: Air-to-water heat pump provides radiant heat, ventilation fans provide cooling for SIPs home on Whidbey Island.
Project: Homestead Homes — Seattle
Builder: Martha Rose Construction, Inc.
Profile: Builders Challenge spotlight on high performance homes using heat recovery ventilators, solar hot water and PV systems, modern radiators, and moisture control.
Project: SIP Custom Home - Olympia
Builder: Scott Homes Inc.
Profile: This 2,300-square-foot custom home has SIP walls and closed cell spray plus blown cellulose for R-50 in attic, plus radiant floor heating and domestic hot water from a ground source heat pump.
Improvements to Existing Homes Case Studies
Washington
Project: Custom Home - Coupeville
Builder: Clifton View Homes
Profile: 1962 one-story adds 300 sq. ft. and cuts energy bills by $200/month with ductless heat pump, new insulation, air sealing.
Solutions that Work Across Climates
DOE has developed several building solutions that work across climate regions.
For additional, updated information on hundreds of building science topics that can help you build or retrofit to the most recent high-performance construction criteria, including the latest version of ENERGY STAR and the DOE Challenge Home requirements, see the Building America Solution Center.