Building America Market Partnerships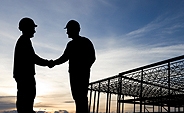 The U.S. Department of Energy (DOE) offers partnership opportunities, educational curricula, meetings, and webinars that help industry professionals bring research results to the market.
DOE Challenge Home
Through the DOE Challenge Home, the Building Technologies Office offers recognition to leading edge builders meeting extraordinary levels of excellence. Builders taking the challenge gain competitive advantage in the marketplace by providing their customers with unparalleled energy savings, quality, comfort, health, durability, and much more.
Learn more about the DOE Challenge Home.
ENERGY STAR for Homes Version 3
DOE has worked closely with the Environmental Protection Agency (EPA) to develop a technology robust label for mainstream builders that ensures comprehensive building science. This is a critical first step and prerequisite to the DOE Challenge Home.
Developing the Next Generation of Professionals
Integration of comprehensive home-performance design, engineering, and construction skills into the core curriculum of architecture and trade schools is critical to widespread development of high performance homes in the marketplace. Learn about Building America's new roadmap for constructing a comprehensive building science education portfolio to support this effort in universities and industry.
Meetings and Webinars
Successful research needs to reach the appropriate audiences in order to achieve the ultimate market impact goals. Building America hosts meetings, webinars, and expert meetings with industry partners and stakeholders to provide a forum to discuss and disseminate residential building research results.
Technical and Stakeholder Meetings: These annual meetings bring together building science researchers and industry stakeholders to discuss key issues related to improving efficiency of homes.

Webinars: Building America offers free webinars focused on improving energy efficiency of new and existing homes.

Expert Meetings: Building America research team members hosts several expert meetings each year on a variety of building energy efficiency topics.
Keep current with upcoming events and news by subscribing to Building America updates.