U.S. Department of Energy - Energy Efficiency and Renewable Energy
Building Technologies Office
Guides and Case Studies for Hot-Humid Climates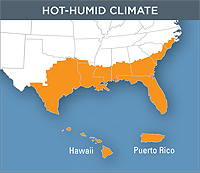 The Department of Energy (DOE) has developed a series of best practices and case studies to help builders improve whole-house energy performance in buildings found in hot-humid climates.
Best Practice Guides
New Construction Case Studies
Florida
Project: Bimini Green Home — Plant City
Builder: Palm Harbor Homes
Profile: Builders Challenge spotlight and features highly efficient 17 SEER/9 HSPF heat pump, extra snug envelope sealing, and solar hot water system.
Project: CobbleField — Gainesville
Builder: G.W. Robinson Builders
Profile: Infill development of 265 single-family homes featuring improved air quality, better dehumidification, and hot water recirculation loop system.
Project: Green Smart Zero Energy Home — Gainesville
Builder: G.W. Robinson
Profile: 2,081-square-foot production home with 16-SEER heat pump and ducts in conditioned space, radiant barrier in the attic over R-38 blown cellulose to keep inside air cool for < 60 HERS without photovoltaics (PV), -3 HERS with 6.6 kW PV.
Project: Habitat for Humanity — Lakeland
Builder: Lakeland Habitat for Humanity
Profile: Fifty affordable homes achieving at least 34% energy savings through use of radiant barrier, conditioned ducts, and heat recovery systems.
Project: NextGen Flex-Home — Orlando
Builder: Genesis by Champion Homes
Profile: The modular home was built at the International Builders Show with a HERS score of 58 using spray foam wall, hybrid HVAC system, low-e double pane windows, and gathers energy from a Delta Wind system.
Project: SunSmart Zero Energy Home - Melbourne
Builder: LifeStyle Homes
Profile: Affordable zero energy home with 14 SEER heat pump and ducts in conditioned space, solar-powered attic fans, solar thermal water heating, concrete block walls with reflective insulation and air gap, plus PV.
Project: Two Zero Energy Homes - Gainesville
Builder: Tommy Williams Homes
Profile: An engineered duct design with ducts and 16 SEER/9.5 HSPF heat pump in conditioned space, solar thermal water heating, air sealing to 2.3 ACH@50Pa, and raised heel energy trusses achieve HERS <60 without PV, -2 with PV.
Louisiana
Project: Project Home Again — New Orleans
Builder: Green Coast Enterprises
Profile: Largest developer of Builders Challenge-qualified homes in Louisiana constructs energy-efficient, storm-resistant homes achieving HERS scores of 66.
South Carolina
Project: Bryant Park Cottages — Hilton Head
Builder: Coastal Habitats Construction & Development
Profile: By right sizing HVAC units, conditioning ducts, superior insulation, and solar hot water system, these houses achieve approximately 50% energy savings.
Texas
Project: 779 Builders Challenge Homes in 2010 - Houston
Builder: David Weekley Homes
Profile: Builder with largest number of Builders Challenge homes in 2010 achieves this with superior insulation, air sealing, and framing; high-efficiency HVAC, appliances and lighting to reach HERS scores of 59-68.
Project: Monterrey Model - San Antonio
Builder: Imagine Homes
Profile: This 3,600-square-foot production home with HVAC in conditioned space in spray-foam-insulated sealed attic; spray-foamed rim joists; advanced frame walls with R-3 foam sheathing; scores 48 on HERS index without PV.
Project: TimberCreek Zero Energy House - Lewisville
Builder: GreenCraft
Profile: More than 5,000 people have toured this 2,500-square-foot spray and rigid foam-insulated demonstration home that scores 1 on HERS index with PV.
Solutions that Work Across Climates
DOE has developed several building solutions that work across climate regions.
For additional, updated information on hundreds of building science topics that can help you build or retrofit to the most recent high-performance construction criteria, including the latest version of ENERGY STAR and the DOE Challenge Home requirements, see the Building America Solution Center.