U.S. Department of Energy - Energy Efficiency and Renewable Energy
Building Technologies Office
Guides and Case Studies for Marine Climates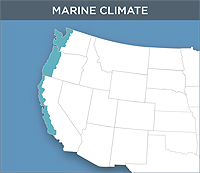 The Department of Energy (DOE) has developed a series of best practices and case studies to help builders improve whole-house energy performance in buildings found in marine climates.
Best Practice Guides
New Construction Case Studies
Washington
Project: Isler Residence — Coupeville
Builder: Clifton View Homes
Profile: This house features a unique ventilation system that cools the house for pennies a day on the hottest days when combined with SIPs, LEDs, and ENERGY STAR ceiling fans.
Project: Passive House #1 at Columbia Station — Seattle
Builder: Dwell Development, LLC
Profile: This home in a micro-community on gray-field site features an electric car charger, double-stud walls, unvented flat roof, and triple-pane windows to achieve a 5-star Built Green rating and meet the Northwest ENERGY STAR program criteria.
Project: Thomas/Salmon Residence — Seattle
Builder: TC Legend Homes
Profile: This house incorporates slab-on-grade, EPS roof, and radiant heating with an air-to-water heat pump that also preheats domestic hot water.
Improvements to Existing Homes
Oregon
Project: Deep Energy Retrofit of 1910 House — Portland
Builder: Homeowner
Profile: This home underwent a full deep energy retrofit, including air sealing and insulating exterior walls and attic and installing new, efficient appliances. Researchers from Pacific Northwest National Laboratory audited the home after the retrofits and calculated a HERS score of 68.
You may also find case studies and guides that work across all climates on the All Climates page.
For additional, updated information on hundreds of building science topics that can help you build or retrofit to the most recent high-performance construction criteria, including the latest version of ENERGY STAR and the DOE Challenge Home requirements, see the Building America Solution Center.