U.S. Department of Energy - Energy Efficiency and Renewable Energy
Building Technologies Office
Guides and Case Studies for Mixed-Humid Climates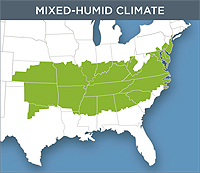 The Department of Energy (DOE) has developed a series of best practices and case studies to help builders improve whole-house energy performance in buildings found in mixed-humid climates.
Best Practice Guides
New Construction Case Studies
Maryland
Project: Eco-Model Home - Arnold
Builder: Baldwin Homes
Profile: Eco-Model Home showcases 69 green features and five green certifications including DOE Builders Challenge.
New Jersey
Project: Legends at Mansfield — Columbus
Builder: Tindall Homes
Profile: Builders Challenge spotlight on community of energy-efficient homes with excellent insulation, high efficiency HVAC, tankless water heaters, and photovoltaics (PV) that achieve energy savings of 46% over the Building America benchmark.
Oklahoma
Project: Multiple Projects — Throughout Oklahoma
Builder: Ideal Homes
Profile: Builders Challenge spotlight on high efficiency homes featuring superior insulation, low-e windows, and high performance HVAC systems to achieve 50% energy savings over comparable homes.
District of Columbia
Project: Capitol Hill Row House Retrofit — Washington
Builder: Steven Winter Associates
Profile: The retrofit of this 145-year-old row house resulted in potential total energy savings of 43% while creating more useable space and meeting the neighborhood's historic requirements.
Maryland
Project: Baltimore Row House Retrofit — Baltimore
Builder: Chesapeake Habitat for Humanity
Profile: Using Building America best practices, this project renovated four historic row houses, resulting in energy savings of 32%.
Solutions that Work Across Climates
DOE has developed several building solutions that work across climate regions.
For additional, updated information on hundreds of building science topics that can help you build or retrofit to the most recent high-performance construction criteria, including the latest version of ENERGY STAR and the DOE Challenge Home requirements, see the Building America Solution Center.