CALiPER Benchmark Reports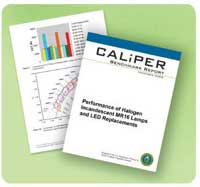 To help users better compare LED products with conventional lighting technologies, DOE conducts CALiPER testing of traditional (non-LED) lamps and fixtures. Benchmark Reports provide detailed analysis of test results for both traditional and LED products for a given application, comparing a range of standard lighting measures (e.g., power usage, light output and distribution, efficacy, correlated color temperature, color rendering index). Potential performance and application issues indicated by CALiPER testing results also are examined.
Some of the following documents are available as Adobe Acrobat PDFs. Download Adobe Reader.