DOE Educates and Informs at Greenbuild
November 29, 2010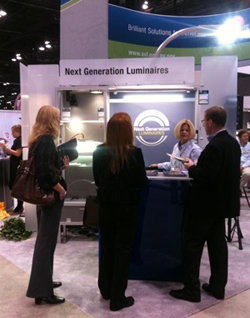 As part of DOE's ongoing commitment to lighting education, the Solid-State Lighting (SSL) program hosted an informational booth and educational seminars at Greenbuild 2010, held November 17–19 in Chicago. Presented by the U.S. Green Building Council, Greenbuild is the world's largest conference and expo showcasing the latest in innovative green products and services.
Representatives from DOE were on hand at the DOE SSL booth to answer questions about the latest CALiPER test results, GATEWAY demonstrations, the Lighting Facts® label, design competitions like Lighting for Tomorrow and Next Generation LuminairesTM, the L PrizeSM competition, SSL R&D funding opportunities, and more.
Training Sessions, November 17-18:
Taking Advantage of DOE Solid-State Lighting Programs
Understanding LED Technology: What Makes It Go and Busting the Myths
LED Lighting in the Real World: The Many Shades of Green
Reducing the Risks of Using LED Lighting
How to Use the DOE Lighting Facts Program to Identify SSL Products for Your Needs
CALiPER: Testing Today's LED Lighting Products
LED Light Bulb Replacements: What to Consider
Lighting Shopping Center Parking Lots with LEDs . . . Really?