U.S. Department of Energy - Energy Efficiency and Renewable Energy
Building Technologies Office – Market-Based Programs
SSL Quality Advocates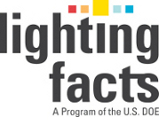 Jointly developed by DOE and the Next Generation Lighting Industry Alliance (NGLIA), SSL Quality Advocates is a voluntary pledge program to assure that LED lighting, as it reaches the market, is represented accurately. Encouraging the development of high-quality products that perform as claimed is essential to buyer satisfaction and will help drive market acceptance of solid-state lighting (SSL) products.
SSL Quality Advocates pledge to use the Lighting Facts® label, similar to a nutrition label. The Lighting Facts label provides a quick and simple summary of product performance data as measured by the new industry standard for testing photometric performance, IES LM-79-2008. It reports product performance results in five areas: lumens, efficacy, watts, correlated color temperature (CCT) and color rendering index (CRI).
These parameters and other recommendations are detailed in the guide Reporting LED Luminaire Product Performance (PDF 145 KB). A supplemental guide, LED Luminaire Lifetime: Recommendations for Testing and Reporting (PDF 666 KB), details specific guidance for accurate reporting of lifetime. Additional metrics related to reliability, product consistency, construction, and other parameters may be considered in future editions of the label. Download Adobe Reader.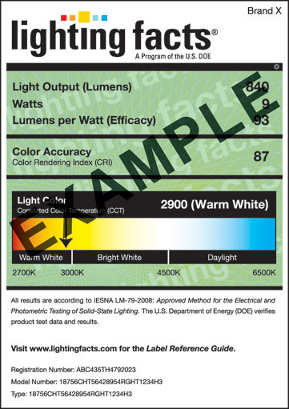 Become a Quality Advocate
Participation in SSL Quality Advocates is open to all who manufacture, sell, and recommend the best in LED lighting. Those who take the pledge become part of a growing community of SSL Quality Advocates across the lighting supply chain committed to supporting continuous improvement of SSL product quality. Manufacturers agree to follow the guidelines and use the label. Other partners — buyers, contractors, lighting designers, distributors, retailers, utilities, and efficiency organizations — agree to look for and use products that bear the label.
Learn more about joining the SSL Quality Advocates at www.lightingfacts.com.