U.S. Department of Energy - Energy Efficiency and Renewable Energy
Building Technologies Office – Information Resources
2013 DOE Solid-State Lighting Manufacturing R&D Workshop
June 5–6, 2013
Hyatt Boston Harbor (formerly Hyatt Harborside)
Boston, Massachusetts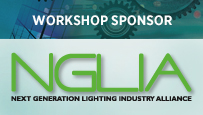 Keynote: Dr. David Danielson, Assistant Secretary for Energy Efficiency and Renewable Energy, will present on America's competitive opportunity to lead SSL manufacturing.
To realize the full energy-saving potential of SSL, market adoption will need to accelerate rapidly in the next few years, which will require a corresponding ramp-up in production. But do we have the right tools and manufacturing methods to make this happen? What will the SSL manufacturing landscape look like in five years, and what are the implications for a U.S. role?
Join DOE—and lighting industry experts representing the entire breadth of the SSL supply chain—at the fifth annual SSL Manufacturing R&D Workshop. Gain cutting-edge perspective on manufacturing issues related to LED and OLED lighting, as leading experts share insights on global manufacturing trends and strategies for reducing costs, improving quality, and increasing volumes. Re-examine roadmap priorities, and propose changes or updates. Learn about federal funding opportunities, and network with our nation's leading manufacturing experts.
Registration Information
Hotel Information
Workshop Agenda