U.S. Department of Energy - Energy Efficiency and Renewable Energy
Building Technologies Office – R&D Projects
Achieving Record Efficiency for Blue OLEDs by Controlling the Charge Balance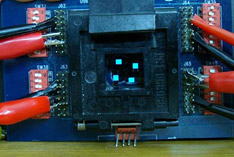 Researchers at the University of Florida (UF) have demonstrated a blue phosphorescent organic light-emitting diode (OLED) with a peak power efficiency of 50 lm/W and an external quantum efficiency exceeding 20 percent at a luminance of 1,000 cd/m2, using no external light extraction techniques. This accomplishment is believed to be the world record in blue OLED efficiency.
Blue OLEDs are important in the creation of white light suitable for solid-state general illumination applications, but high-efficiency blue OLEDs with good lifetime and stability have represented a significant technical hurdle. Most phosphorescent OLEDs including this particular type of blue small molecule possess an inherent imbalance of charge carriers that limits internal quantum efficiency.
The UF team has demonstrated very high-efficiency blue OLEDs using a unique charge carrier material with special electrical properties. The team will continue to exploit certain light extraction techniques and special down-converting phosphors that will produce white light from the high-efficiency blue OLEDs developed in their lab.