U.S. Department of Energy - Energy Efficiency and Renewable Energy
Building Technologies Office – Information Resources
Guided Tour of Testing Lab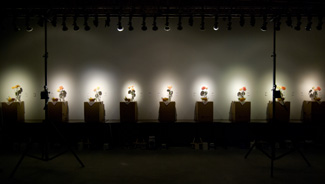 Tuesday, November 12, 2013, 7:00 p.m., $20
Comparing LEDs with incumbent products is easier said than done. Portland is home to a Pacific Northwest National Laboratory testing lab for commercial lighting products. If you've ever wanted to "get your geek on" and get an insider's view of a real CALiPER test set up, this guided tour is for you. Attendees will see 27 halogen and LED PAR38 lamps in action, which will show off some of the lamp characteristics that don't come across on a spec sheet. There will also be an opportunity to compare lab photometry tests with visual in-person results of five different types of 2'x4' LED troffers in a mock-up space.
See in person:
Do lamps having the same technical specifications really perform the same?
Can you tell the difference between a lamp with a CRI of 82 and a CRI of 92?
Why shadow patterns matter to retail applications
What happens to light distribution and output in troffers lamped with LED T8 tubes vs. fluorescent lamps
Why retrofitting troffers with LED tubes is not a slam dunk—what to look for
What a gonio report can't tell you that your own eyes can
Why seeing a product in action is essential
Participants should meet at 6:45 p.m. in the Benson's hotel lobby. The bus will leave promptly at 7:00 p.m. and return to the hotel by approximately 9:15. Please note that the facility is on two levels and does not have an elevator; assistance to navigate the stairs is available if needed.
Registration is required; select the "Guided Bus Tour" check box at the top of the registration page. $20 transportation fee.