U.S. Department of Energy - Energy Efficiency and Renewable Energy
Building Technologies Office – R&D Projects
NEW! OLED Testing Opportunity
Ongoing discussions with the OLED lighting community have identified the need for a collaborative R&D framework to accelerate developments in OLED lighting technology and manufacturing. DOE has issued a call for sources to identify qualified testing laboratories that possess the capabilities to incorporate various R&D-stage OLED components into baseline structures to evaluate their compatibility and performance.
DOE leadership and support spur advances in the efficacy and performance of light-emitting diode (LED) and organic LED (OLED) technologies—advances that might not otherwise be achieved without DOE funding. (Some of the following documents are available as Adobe Acrobat PDFs. Download Adobe Reader.)
The three-pronged DOE SSL R&D program addresses:
Core Technology Research, focusing on applied research for technology development, with particular emphasis on meeting efficiency, performance, and cost targets. This research fills technology gaps to overcome technical barriers, and is subject to the Exceptional Circumstances Determination regarding intellectual property.
Product Development, using the knowledge gained from basic or applied research to develop or improve commercially viable materials, devices, or systems.
Manufacturing Support, aimed at accelerating SSL technology adoption and encouraging a role for U.S.-based production through manufacturing improvements that reduce costs and enhance product quality.
Together, these three efforts target making SSL competitive with conventional lighting technologies on a first-cost basis and creating a U.S.-led market for high-efficiency light sources. For more detailed descriptions of the R&D pathways, see Definitions of SSL R&D Pathways.
Shaping the R&D Agenda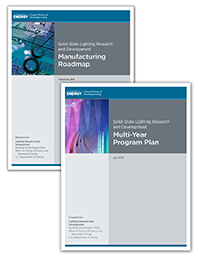 Two documents guide the DOE SSL R&D program: the Multi-Year Program Plan and the Manufacturing R&D Roadmap. All funding opportunity announcements (FOAs) and project selections align with these two plans, which are updated annually in collaboration with industry partners. Industry input is sought through focused roundtables and annual workshops that bring together America's best and brightest scientists focused on SSL R&D advances, strategies, and ideas. These exchanges inform not only DOE-sponsored R&D, but also research agendas in academia and industry.
R&D Portfolio
The DOE SSL R&D portfolio is composed of competitively selected and cost-shared projects. Solicitations for R&D funding are issued annually. R&D partners and projects are selected based on factors such as energy savings potential, likelihood of success, and alignment with the MYPP and Roadmap.
The DOE SSL R&D Portfolio report provides an overview of research projects funded by DOE. Each project profile in the portfolio includes a brief technical description as well as information about the project partners, funding, and time frame.
Learn more about Patents resulting from DOE-funded R&D.
View Research Highlights to learn more about major progress, breakthroughs, and world records that result from DOE-funded research projects.