CALiPER Summary Reports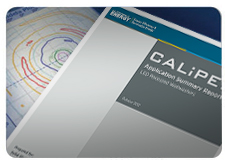 CALiPER Retail Replacement Lamp Testing
The reports include test results and analysis for SSL replacement lamp products—directly available through retail outlets—including A19, G25, candelabra, night light, MR16/PAR16, PAR20, and PAR30 replacement lamps.
The detailed individual test reports from the 2010 and 2011 testing can be found here.
DOE publishes CALiPER Summary Reports following completion of each testing series. Each Summary Report published through 2011 covers a variety of lighting products, but starting in 2012, Summary Reports focus on a single product type or application. Products are selected with the intent of capturing the current state of the market—a cross section ranging from expected low to high performing products—with the bulk characterizing the average of the range. Read the CALiPER 2012 Year in Review report.