Outdoor Lighting Resources
DOE offers a variety of resources to guide municipalities, utilities, and others in their evaluation of LED street lighting products.
The following documents are available as Adobe Acrobat PDFs. Download Adobe Reader.
Tools
Tools assist users with project planning and analysis.
Retrofit Financial Analysis Tool
The Retrofit Financial Analysis Tool provides municipalities, utilities, and other organizations a method of analyzing the cost and return-on-investment from lighting efficiency projects.
Published Specifications
Specifications help determine appropriate performance characteristics for a particular lighting application.
Lighting Market Reports
Lighting market reports present objective market data and analysis.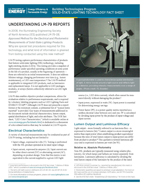 Technology Fact Sheets
Technology fact sheets describe solid-state lighting, its characteristics and applications, and issues related to successful market introduction.
White Papers
White papers explore critical issues that impact SSL technology and market adoption.
SSL Implementation Briefs
SSL Implementation Briefs examine the experiences of municipalities as they investigate and adopt LED street lighting technology.
GATEWAY Reports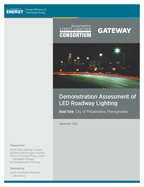 GATEWAY demonstrations showcase high-performance LED products for general illumination in a variety of commercial and residential applications.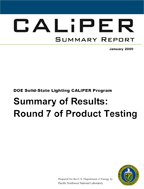 CALiPER Reports
CALiPER testing provides unbiased performance results for a widely representative array of commercially available SSL products for general illumination.
Round 11 Summary Report
Includes results and analysis for products tested, including roadway arm-mount and post-top luminaires, linear replacement lamps, high-bay luminaires, and small replacement lamps.
Round 10 Summary Report
Includes results and analysis for products tested, including parking structure luminaires, outdoor wallpack luminaires, cove lighting luminaires, and replacement lamps.
Round 7 Summary Report
Includes results and analysis for products tested, including outdoor area and street lights, downlights, and replacement lamps.
Webinars
Past webinars provide information about the Consortium and about LED street lighting programs and resources.
External Resources
External resources provide various information about LED street lighting.
LED Street Lighting: A Handbook for Small Communities, available for purchase from the American Public Power Association, provides guidance for small organizations and municipalities considering an LED streetlight retrofit. The handbook provides case studies of small communities that installed LED luminaires, as well as information on how to analyze the costs and benefits of an LED streetlight retrofit and prepare bid documents.
Miscellaneous
DOE reviewof the Lighting Research Center's Specifier Report on Streetlights for Collector Roads.
Video
View the text-alternative version