UDC Demonstrates Phosphorescent OLED Systems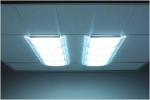 Universal Display Corporation (UDC), along with project partners Armstrong World Industries and the universities of Michigan and Southern California, have successfully demonstrated two phosphorescent OLED (PHOLED™) luminaire systems, the first of their kind in the U.S. This achievement marks a critical step in the development of practical OLED lighting in a complete luminaire system, including decorative housing, power supply, mounting, and maintenance provisions. Each luminaire has overall dimensions of approximately 15x60 cm and is comprised of four 15x15 cm phosphorescent OLED panels. With a combined power supply and lamp efficacy of 51 lm/W, the prototype luminaire is about twice as efficient as the market-leading halogen-based systems. In addition, the prototype OLED lighting system snaps into Armstrong's TechZone™ Ceiling System, which is commercially available in the U.S.
UDC is teaming with another luminaire company on a related project that is attempting to do essentially the same thing, but with undercabinet lighting. In still another DOE-funded project, UDC has partnered with Moser Baer Technologies, who is setting up a U.S.-based manufacturing facility for OLED panels, based on UDC's phosphorescent OLED technology. The first of its kind in the U.S., the pilot facility is designed to exercise key fabrication processes at a rate of up to 1,000 panels per day.
In addition, a pair of OLED projects funded under Phase II of DOE's Small Business Innovation Research (SBIR) program have resulted in world-record OLED performance achievements. In the first project, UDC and University of Michigan researchers successfully assembled a stacked phosphorescent OLED (SOLED). Using the industry-accepted standard lifetime measuring method LT70, they recorded the longest lifetime yet for an all-phosphorescent white light SOLED pixel: 37,500 hours at an initial luminance of 2,000 cd/m2. In the second project, UDC achieved a 15 cm2 phosphorescent OLED lighting panel with a measured efficacy of 66 lm/W at a luminance of 1,000 cd/m2. This key milestone is believed to mark a world record achievement of efficacy for a large-area OLED device.