UDC Develops Prototype High-Efficiency OLED Undercabinet Luminaire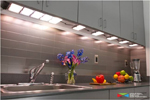 Universal Display Corporation (UDC) has demonstrated the real-world application of a novel lighting technology by developing two pre-prototype OLED undercabinet lighting systems that exceed 420 total lumens at an efficacy of more than 55 lm/W, with an estimated lifetime (LT70) in excess of 10,000 hours, and a color rendering index (CRI) greater than 85.
Each system consists of 10 OLED panels integrated into an undercabinet luminaire that includes an integrated power supply, special interconnects, dedicated low-voltage wiring, and dimming control. Based on UDC's proprietary phosphorescent emitters, the OLED panels are built with early development versions of the company's outcoupling efficiency-improving technology, and each panel measures 15 x 7.5 cm.
It is expected that continuing development of advanced outcoupling concepts currently under consideration by the UDC team will produce even higher system efficacies, with concurrent improvements in CRI. The UDC development efforts aimed at demonstrating the full potential of high-efficiency OLED lighting for specialty applications such as this will continue under various projects funded by DOE and private sources.