Show Tips
These guidelines are designed to help you prepare for exhibiting. Be sure that you are fully prepared before the event begins.
Get Your Badge
You will need a badge to get into the hall to set up the exhibit. This will either be a work pass or your exhibitor badge. You can pick this up on-site, usually at a registration desk.
Survey the Situation
Check that all items shipped to, and ordered for the show have arrived. Review your service orders.
Set Up Display
Designated staff will set up the display during show set-up hours. Be sure to check show literature to see what those hours are. If there is any trouble with the exhibit at the time of set-up, please make note of it and forward to Marilyn Burgess. We want to ensure that the exhibit is well maintained and looks first-rate at all times.
The case does not have combination lock, so opening the exhibit shipping case should be easy for everyone. The following page provides illustrated, step-by-step instructions on setting up the 10' exhibit. Setup instructions are also included in the top of the display case. After you have set up the display, you might want to store the case behind the display if it will fit. That way you won't have to wait for conference services to bring your cases back after the show.
Suggested Exhibit Booth Configuration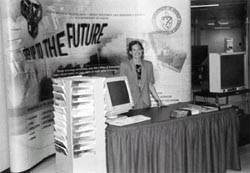 The photo provides an example of how to arrange the display, literature, and equipment.
Additional Equipment
If you ordered a card reader you may be able to pick it up during setup hours. Find out when you will receive audio/visual or computer equipment, if ordered.
If You Aren't Sure Who to Contact...
Seek out show management (normally, there's a desk in the hall). They can direct you to the right person.
To Order Additional Exhibit Services or Items
You can order additional items and services such as chairs, VCRs, etc., on-site at the service desk. Items can be charged to an authorized credit card. Make sure you keep your receipts.