Lighting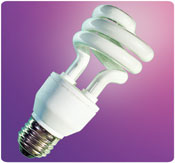 Making improvements to your lighting is one of the fastest ways to cut your energy bills. An average household dedicates 11% of its energy budget to lighting. Using new lighting technologies can reduce lighting energy use in your home by 50% to 75%. Advances in lighting controls offer further energy savings by reducing the amount of time lights are on but not being used.
Indoor Lighting
Use linear fluorescent tubes and energy efficient compact fluorescent light bulbs (CFLs) in fixtures throughout your home to provide high-quality and high-efficiency lighting. Fluorescent lamps are much more efficient than incandescent (standard) bulbs and last about 6 to 12 times longer.
Today's CFLs offer brightness and color rendition that is comparable to incandescent bulbs. Although linear fluorescent and CFLs cost a bit more than incandescent bulbs initially, over their lifetime they are cheaper because of how little electricity they use. CFL lighting fixtures are now available that are compatible with dimmers and operate like incandescent fixtures.
Indoor Lighting Tips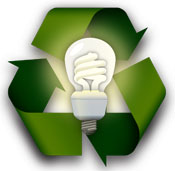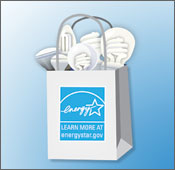 Be sure to buy ENERGY STAR qualified CFLs.

They will save you about $30 or more in electricity costs over each bulb's lifetime.

Producing about 75% less heat, they are safer to operate and can cut home cooling costs.

Visit www.energystar.gov to find the right light bulbs for your fixtures. They are available in sizes and shapes to fit in almost any fixture.

They provide the greatest savings in fixtures that are on for a long time each day. The best fixtures to use qualified CFLs in are usually found in your family and living rooms, kitchen, dining room, bedrooms, and outdoors.

Consider purchasing ENERGY STAR qualified fixtures. They are available in many styles including table, desk and floor lamps — and hard-wired options for front porches, dining rooms, bathroom vanity fixtures, and more.

ENERGY STAR qualified fixtures distribute light more efficiently and evenly than standard fixtures and they deliver convenient features such as dimming on some indoor models.

Controls such as timers and photo cells save electricity by turning lights off when not in use. Dimmers save electricity when used to lower light levels. Be sure to select products that are compatible with CFL bulbs; not all products work with CFLs.

When remodeling, look for recessed downlights, or "cans", that are rated for contact with insulation (IC rated).

Take advantage of daylight by using light-colored, loose-weave curtains on your windows to allow daylight to penetrate the room while preserving privacy. Also, decorate with lighter colors that reflect daylight.

If you have torchiere fixtures with halogen lamps, consider replacing them with compact fluorescent torchieres. Compact fluorescent torchieres use 60% to 80% less energy and do not get as hot as halogen torchieres.
Outdoor Lighting
Many homeowners use outdoor lighting for decoration and security. When shopping for outdoor lights, you will find a variety of products, from low-voltage pathway lighting to motion-detector floodlights. Light emitting diodes, or LEDs, thrive in outdoor environments because of their durability and performance in cold weather. Look for ENERGY STAR LED products such as pathway lights, step lights, and porch lights for outdoor use.
Outdoor Lighting Tips
LED—A New Kind of Light
Light emitting diodes, or LEDs, offer better light quality than incandescent bulbs, last 25 times as long, and use even less energy than CFLs. Look for ENERGY STAR qualified LED products at home improvement centers and lighting showrooms.
Because outdoor lights are usually left on a long time, using CFLs in these fixtures will save a lot of energy. Most bare spiral CFLs can be used in enclosed fixtures that protect them from the weather.

CFLs are also available as flood lights. These models have been tested to withstand the rain and snow so they can be used in exposed fixtures. Most though, cannot be used with motion detectors.

Look for ENERGY STAR qualified fixtures that are designed for outdoor use and come with features like automatic daylight shut-off and motion sensors.