U.S. Department of Energy - Energy Efficiency and Renewable Energy
Energy Education & Workforce Development – EERE Postdoctoral Research Awards
Solar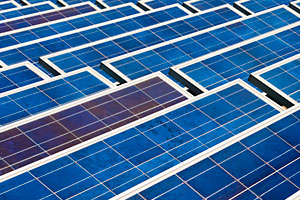 The Solar Program (SP) focuses on developing cost-effective solar energy technologies that have the greatest potential to benefit the nation and the world. A growing solar industry also stimulates our economy by creating jobs in solar manufacturing and installation.
SP has recently launched a major new program called the SunShot Initiative to reduce the total costs of solar energy systems by about 75 percent before the end of the decade. This major national effort to make solar energy technologies cost competitive with other forms of energy, without subsidies, will leverage the combined technical expertise of research laboratories, academic institutions, and industry across the country. By reducing the cost for utility-scale installations by about 75 percent to roughly $1 per watt — which would correspond to approximately 6 cents per kilowatt hour — solar energy systems could be broadly deployed across the country.
Research Topics 
The Solar Program is interested in supporting collaborative research at facilities outside the U.S. Applicants are strongly encouraged to pursue research opportunities at foreign research facilities (e.g., Europe, Australia and Japan). 
S-301 Human Behavior Contributions to Solar Electricity Cost:  Quantifying risk in the solar industry
As an industry matures, a better understanding of uncertainties associated with long-term performance, reliability, and safety is developed.  Assessments of risk and cost affect the bankability, profitability, and, consequently, growth of an industry.  With the SunShot Initiative, the DOE seeks to accelerate the maturation and growth of the solar industry.  Critical to this goal is the establishment of accurate validation methods to be used by financiers.  What are the appropriate metrics for quantifying risk associated with solar installations?  How will improvements in guidelines and standards affect bankability (borrowing rates, insurance premiums)?  Can we rank assessment criteria by their effects on bankability?  For example, can we quantify the value of improvements in solar resource forecasting: if the output of a solar system can be accurately predicted for t minutes into the future, how does this translate to appropriate financing rates?
S-302 Human Behavior Contributions to Solar Electricity Cost:  Quantifying Understanding customer acquisition process
Market observers often fail to recognize the complexity of an individual's decision-making process leading to product adoption.   Upfront cost and relative advantage for a given product are seldom the main motivators, especially for an early adopter during the nascent stage of a technology.  As the solar market expands, anticipating how a potential adopter's decision-making process might evolve will become increasingly important.  What role has symbolic meaning played in a customer's adoption patterns, and how might this factor evolve as solar technology moves from early to more mainstream adopters?  What communication strategies might be used to effectively and efficiently educate and inform consumers about solar technologies?  How can community solar programs or similar innovations transform solar energy technology market dynamics into an interactive process that leverages group adoption processes?  How does solar adoption fit into the larger context of an individual's entire energy-usage behavior (ripple and rebound effects)?
S-303 Human Behavior Contributions to Solar Electricity Cost:   Potential for a national permitting model for photovoltaic installations
This project would consist of an analysis of the limits, strengths, and opportunities associated with a national permitting model. Is there a case for cities to adopt a national standard for permitting solar systems?  What elements would make it friendly to city governments, installers, and consumers (e.g. online applications, coordination with utilities, etc.)? What would make it relevant to all regions of the country, or should it be geographically customized, considering that there are significant variations from weather to politics across the country?  A reasonable first step would be a deep-dive analysis into the Solar America Board of Codes and Standards (Solar ABCs  http://www.solarabcs.org/ ) expedited permitting process, considering the systems that have used the Solar ABCs model and the percentage of systems to which this model could be applied, comparing jurisdictions that use the Solar ABC model versus (comparable) jurisdictions that use their own model. Further analyses of these processes, turnaround time, cost effects to city, installer, and consumer would also be desirable, as well as an assessment of how the people involved impact the process (for example, by good or poor management).
S-304 Photovoltaic Systems and Grid Integration:  Plug and Play PV
Can we make a solar panel like a TV? Projects of interest would completely re-design the photovoltaic module, addressing the mechanics (i.e., glass plates), electrical (large currents and voltages), interfacing to Utilities/Inspectors (Communications protocols), Sensing (stress, heat, charge, etc), so that customization for a customer would not be required, therefore removing some customer acquisition costs (estimated at approximately $1.40/W in residential PV systems). Ideally, the redesigned module would also eliminate permitting and inspection costs and significantly reduce O&M costs.
S-305 Photovoltaic Systems and Grid Integration:  Modeling distribution grids with high solar penetration
Present electricity distribution grid models include solar generation as a varying negative load.  For the high penetration scenario envisioned by the SunShot Initiative, we require a more advanced distributed grid (DG) model which realistically includes variable generation, as well as support for storage and microgrid (islanding) modes.  Can such a model be analyzed to design DGs with improved reliability?
S-306 Concentrating Solar Power Materials and Systems:
Concentrating Solar Power (CSP) technologies, such as parabolic trough, power tower, linear Fresnel, and dish engine systems and their associated thermal energy storage, are also targeted under the SunShot Program for significant cost declines through advanced technology development.  Under this program, all the previously mentioned technologies, as well as other alternative CSP technologies, will be under consideration based upon determined feasibility and cost of the proposed design. Topics of interest include, but are not limited to:
Low-cost (≤$75/m2) solar field components and systems that maintain sufficient performance in terms of total optical error (≤3mrad in calm winds, ≤4mrad in windy conditions), wind loads (≥35mph operational, ≥85mph survival), and lifetime (≥30 years).
Polymeric or thin-glass reflectors with high-reflectivity (≥95% specular) and durability.
High-performance selective coatings for reflectors (abrasion resistance, anti-soiling) or receivers (high absorptivity, low emissivity).
High-temperature (≥650°C), high-efficiency (≥90%) solar receiver materials and designs capable of operation over many thermal cycles (≥10,000).
Novel, high-temperature (≥800°C) heat transfer fluids.
High-temperature (≥650°C), low-cost (≤$15/kWhthermal) thermal storage materials and systems (≥95% exergetic efficiency) compatible with advanced fluids and cycles.
High efficiency power cycles (≥50% net thermal to electric).
High-temperature hardware (heat exchangers, pumps, valves, etc.) compatible with advanced power cycles.
Innovative, low-to-no water O&M techniques.
Novel CSP components and systems.
S-307 Photovoltaic Materials:
In photovoltaic system hardware, serious materials challenges remain in many commercial and near commercial absorber technologies.  Providing fundamental scientific knowledge in these technologies could significantly decrease the costs of photovoltaic manufacturing and materials usage to achieve the cost goals of the Sunshot Program. Below are some questions of interest regarding these desired advances:
In both CdTe and CIGS, the large scale device efficiencies are significantly lower (~17% and 20% in laboratory champion for CdTe and CIGS, respectively) than the theoretical maximum (~29%).  What are the reasons for limited efficiency improvements in the past decade and pathways to increase efficiency?  Can high quality (low defect and high lifetime) absorber materials be deposited by manufacturable methods?
Earth abundant PV materials (absorber, TCO, etc.) to enable TW level of deployment.
How can innovative kerfless wafering/thin wafer/epitaxial growth techniques produce highly efficient crystalline silicon photovoltaics with extremely low manufacturing costs? Manufacturing science problems for differentiating and high efficiency technologies.
What are pathways for high efficiency c-Si devices?  What are suitable absorber materials for a tandem junction cell both in a flat plate and low concentration configuration? 
Other than a p-n junction, are there other ways that a useful amount of charge could be separated in a photovoltaic device? Effective methods of light trapping or device architectures exceeding theoretical limits of efficiency.
Is it possible to make a solid state, high efficiency Graetzel/ sensitized photovoltaic cell, designed to be integrated into the grid at a large scale, that could be competitive with other photovoltaic technologies?
Fundamental understanding of mechanisms of degradation in PV devices. E.g. metastability in thin film cells, stability of >4J III-V devices as more lattice mismatch layers are introduced, fundamental understanding of potential induced degradation in high efficiency Si cells, etc. Research in developing physics based model for device degradation.  Models which are able to predict device lifetime with material based input parameters and stress conditions. E.g. NBTI (negative bias temperature instability) can be predicted in microelectronic devices based on basic material parameters input into an activation-diffusion based model.  Creep and fatigue failures of very complex turbine blades can be predicted based on material property and stress input.  Is it possible to develop models based on fundamental physics and material properties to predict PV device degradation to enable shorter testing time and high confidence data?