Water Power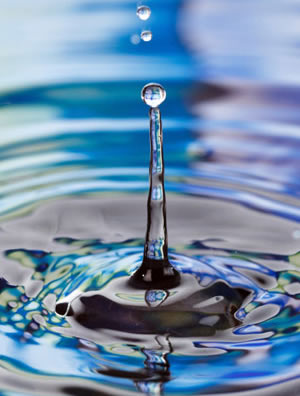 The Water Power Program covers two advanced water power technologies: marine and hydrokinetic technologies and conventional hydropower technologies. Marine and hydrokinetic technologies capture energy from waves, tides, ocean currents, the natural flow of water in rivers, and marine thermal gradients without building new dams or diversions. Conventional hydropower uses dams, diversionary structures, and impoundments to generate electric power from water resources.
For each technology, the program focuses on technology development, which addresses technical barriers to device design, development, testing, evaluation, and integration; and market acceleration, which addresses nontechnical barriers to the development, siting, and deployment of the technologies.
Research Topics
WP-301 Marine and Hydrokinetic Technology Development and Testing
The goal is to promote foundational research which will broadly enable the marine and hydrokinetic (MHK) energy industry (as opposed to a single device or technology) to rapidly reduce levelized-cost-of-energy (LCOE) and increase successful tests and deployments.  Proposals could include, but are not limited to: research to develop and evaluate new instrumentation or techniques for measuring the performance and survivability of devices; the development or adaptation of models to accurately characterize array interactions; development of tuning algorithms and controls to improve energy capture; life-cycle cost analysis to determine high-impact cost-reduction opportunities; and improvements in instrumentation or techniques for cost-effectively monitoring the environmental impacts of device deployment (specifically acoustic output and/or marine animal interactions with devices).  For background information on past MHK research projects funded by the Water Power Program, please see DOE Water Power Program 2011 Peer Review, report and proceedings published on the Water Power Program Website: http://www1.eere.energy.gov/water/2011_peer_review.html
This opportunity supports research to advance the development and testing of Marine and Hydrokinetic (MHK) technologies. This research award program will competitively select and send highly-skilled U.S. scientists and engineers to participate in innovative research projects at selected European marine energy test sites and research institutions that have partnered with the U.S. Department of Energy. Given the nascent state of the global MHK energy industry, it is imperative that countries with similar research interests collaborate to increase the speed of research and development for these emerging clean energy technologies.  These research awards are designed to strengthen linkages and facilitate collaboration between U.S. and Irish research and testing facilities, and are reflective of the recent Memorandum of Understanding (MOU) signed with Ireland in 2012.  This year, two awardees will be given the opportunity to conduct research at institutions connected with marine energy test sites in Ireland.  These fellows will be selected to conduct research at Irish institutions that are connected with the Galway Bay Wave Energy Test Site, co-located with SmartBay, and jointly operated by the Sustainable Energy Authority of Ireland (SEAI) and the Marine Institute, and the open-ocean test site that is currently being developed by the SEAI off the coast of County Mayo, Ireland.
These research opportunities are intended to be 2 years in duration, commencing in the Fall of 2013 (with some flexibility), and with a determination of continuation for the second year of research based on the awardee's progress during their first year.  To facilitate greater collaborative research between Irish and U.S. research institutions, applicants may propose to conduct their first year of research at an Irish institution and their second year of research at a U.S. institution.  In these cases applicants must clearly demonstrate how the proposed research project would benefit from the ability to conduct work, utilize core capabilities and involve researchers from multiple institutions.  Proposals of this nature must be coordinated and approved by mentors in both locations.  Applicants may also propose research projects in Ireland that are only 1 year in duration.  Applicants will be responsible for establishing contact with potential research mentors at host institutions, and developing a research plan approved by the mentor(s).  This fellowship is targeted at applicants who have received their PhD (or Masters in an engineering field) within the past 5 years.  However, outstanding candidates with proposals for innovative research to be conducted as part of an ongoing doctoral program (or program to receive a Masters in an engineering field) will also be considered.
These opportunities complement DOE's establishment of National Marine Renewable Energy Centers, and ongoing efforts to develop open-water device testing infrastructure within the U.S. The development of testing facilities in the U.S., similar to in-water testing berths already in operation at European centers, will require skilled personnel in the U.S. who have experience installing, monitoring and conducting research around operating devices. Initiating this type of research now is critical to establishing leading-edge open-water test berths in the U.S. that are capable of fully testing and validating marine renewable devices in real world conditions. Numerous opportunities also exist for cooperation with other research institutions to develop experience in modeling and evaluating the performance and effects of devices. Through a collaborative effort with international test centers and research institutions, this research award program would serve to develop a U.S. workforce that has critically needed research, development, testing, monitoring, and evaluation experience for marine and hydrokinetic technologies.  An experienced and qualified workforce is essential to support a domestic marine and hydrokinetic industry.
Examples of host institutions, and areas of research associated with the Irish facilities, to whom the Fellow might be attached, include:
Hydraulics and Maritime Research Centre (University College Cork, partner of the Irish Maritime and Energy Resource Cluster ) – Resource analysis and modeling, hydrodynamic modeling, physical model testing, electrical systems modeling and grid integration, field trials, permitting and legal issues, site evaluations and environmental impact surveys
Marine Institute – Wave energy site survey and assessment, data integration and management, development and deployment of advanced monitoring systems
The Ocean Energy Development Unit, SEAI – Economics of Marine Energy and operation of testing infrastructure
Examples of host institutions in the U.S. (for applicants proposing to conduct their second year of research in the United States):
DOE National Laboratories - National Renewable Energy Lab (NREL), Pacific Northwest National Lab (PNNL), Sandia National Lab (SNL)
National Marine Renewable Energy Centers
Other Universities or Institutions with significant marine and hydrokinetic research and testing programs