Recovery Act Project Stories
The following FEMP American Recovery and Reinvestment Act funded projects exemplify the range of technical assistance provided to Federal agencies. Current project stories include: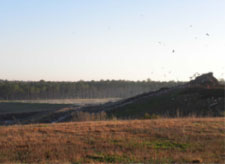 U.S. Pacific Command
The U.S. Department of Defense (DOD) U.S. Pacific Command (USPACOM) is collaborating with the FEMP and six DOE national laboratories to solve some of USPACOM's most pressing energy needs. The USPACOM energy goal is to develop an integrated, expanded approach for all Oahu military installations. The Oahu work will develop a template to be applied next in Guam, Alaska, Japan, and Korea. This work will advance USPACOM's energy efficiency, renewable energy, energy manager training, and micro grid assessments. Under FEMP funding, the following six DOE national laboratories will carry out energy tasks across military services in Hawaii, Alaska, Guam, and Japan:
Lawrence Berkley National Laboratory (LBNL)
National Energy Technology Laboratory (NETL)
National Renewable Energy Laboratory (NREL)
Oak Ridge National Laboratory (ORNL)
Pacific Northwest National Laboratory (PNNL)
Sandia National Laboratory (SNL)
U.S. Army Fort Bliss
U.S. Army Fort Bliss was selected by the Army as a pioneer in the development of renewable energy and energy efficiency projects and as a model for Army installations. FEMP is supporting this effort and implementing Army Energy Security Tiger Team recommendations. The approach is to invest appropriated funds to build renewable power plants for Army energy security. The goal is to generate enough energy to supply the expansion currently underway at Fort Bliss; the installation is adding 10 million square feet to accommodate a population increase from 24,000 to 90,000. Offsetting the expected increased in energy use will require 20 MW to 40 MW of renewable generation capacity for 200 GWh/year at an estimated investment of $150 million in 2011. This is an opportunity for DOE to help the Army deploy a diverse mix of renewable energy technologies on an unprecedented scale and will provide an impetus for the renewable energy industry.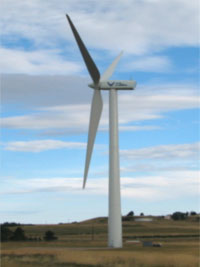 U.S. Northern Command
DOD U.S. Northern Command (NORTHCOM) received integrated technical assistance from FEMP. A summary fact sheet

is available. NREL, Sandia, and PNNL each undertook the following technical assistance activities.
NREL completed renewable energy assessments at eight Rocky Mountain installations (Fort Carson, U.S. Air Force Academy, Peterson AFB, FE Warren, Cheyenne Mountain, Buckley AFB, Schriever AFB, and Pueblo AFB) using its Renewable Energy Optimization (REO) tool. REO determines the most cost-effective combination of energy technologies at a facility level.

REO results indicate use of solar ventilation preheating, solar water heating, ground source heat pumps, and wind energy would reduce the overall 25-year life-cycle cost of energy compared to current fossil-fuel based utility services. To further reduce fossil-fuel dependence and achieve net zero energy, additional technologies could be implemented, including photovoltaics, concentrating solar power, and daylighting.

Payback periods for the minimum life-cycle cost solutions at each installation range between seven and 23 years, while payback for the net zero solutions range between 39 and 79 years.

PNNL conducted a study of Federal and state regulatory environments to identify regulations that may constrain DOD from developing a regional smart grid test bed. PNNL found that relying on generation at each base is more cost effective and does not require grid modifications or changes to state electric industry regulations. Based on these findings, remaining tasks focused on increasing energy security at individual bases.

Sandia and NREL each provided technical assistance to Fort Carson. NREL performed assessments focused on two components: 1) Net zero energy installation assessment; and 2) EV grid integration study. Sandia provided a secure micro grid design.

The NREL study began with a baseline of current electrical, thermal, and transportation/fleet energy consumption. NREL then identified energy conservation and efficiency projects that could minimize energy demand economically. NREL also examined renewable energy generation technologies to determine their potential to meet remaining energy loads. The study concluded with analyzing fleet fuel use for opportunities to switch to alternative fuels or EVs. Together, these pieces provide an assessment for efficiency, renewables, and transportation energy projects that reduce Fort Carson's reliance on fossil-fuels and increase energy security.

Sandia also performed an energy security micro grid (ESM) design for Fort Carson. The team assessed critical mission requirements, evaluated how to use conventional and renewable energy resources to meet those needed, and evaluated how to operate in a secure, islanded manner. Beginning with micro grid assessments, Sandia aimed to enhance operational effectiveness while reducing energy demands and increasing energy resilience by developing alternative and assured fuels and energy. By incorporating smart grid architecture and processes to enhance energy assurance, Sandia balanced system safety, security, reliability, cost effectiveness, and sustainability.
Greenhouse Gas Reporting and Tracking Systems
In addition to technical assistance projects, FEMP Recovery Act funding went toward three program projects:
Energy, Water, and Greenhouse Gas Emissions Reporting and Tracking Systems: A total of $2.5 million in Recovery Act funding will improve FEMP's ability to assist Federal agencies with energy investment decisions. These funds will implement currently unfunded statutory-mandated reporting activities that will track the Federal Government's progress toward energy efficiency goals and energy efficiency project activity implemented with more than $11 billion of Recovery Act funding provided to GSA and other agencies as well as out-year investments.

FEMP will also improve data systems and analysis capabilities through IT upgrades and enhancements to integrate disparate data systems. This includes developing, beta testing, and deploying a Web-based facility energy and project tracking system mandated under Section 432 of the Energy Independence and Security Act (EISA) of 2007.

The existing database of the Federal Government's facility energy use, costs, and square footage will also be migrated from a legacy platform along with FEMP Central, the program's activity and stakeholder database. This critical data set includes historical Federal Government energy use information dating back to 1975. The legacy platform will not be supported beyond 2011, prompting the migration.

Greenhouse Gas Management and Abatement: A total of $3 million of Recovery Act funding is allocated to FEMP to develop comprehensive tools and resources for greenhouse gas management and abatement. This integrates with existing energy management activities across Federal agencies to assist in reducing agency carbon footprints. Activities include developing recommendations for greenhouse gas accounting and reporting guidance and assisting agencies in measuring and reducing emissions.

Federal agencies will be provided with greenhouse gas management tools as they aim to meet increasingly stringent greenhouse gas, energy efficiency, and renewable energy goals. The project will provide a roadmap to a climate-neutral Federal Government that incorporates accelerated deployment of EERE technologies. This project will also develop the planning tools necessary to attain climate neutrality at Federal sites.

Energy Management Training: A total of $960,000 of Recovery Act funding is allocated to train Federal agencies on energy management activities. The program includes six training sessions available to Federal agencies via Webcast and/or satellite broadcast. Topics range from energy management 101 to greenhouse gas management to operations and maintenance. Guides, toolkits, and white papers will also be developed to serve as course materials and resources for FEMP training activities.

In addition to the live training seminars, FEMP will build a central training database that lists all in-person and online training opportunities. The database allows Federal agencies to receive training live, or on demand through pre-recorded training modules.