Prioritize Strategies and Set Internal Reduction Targets for Scope 3 Greenhouse Gas Emissions
The final steps in the greenhouse gas (GHG) mitigation planning process for Scope 3 emissions include:
Prioritizing All Scope 3 Strategies
Once the Federal agency understands what Scope 3 reductions are feasible and at what costs, it should prioritize proposed GHG reduction activities across all Scope 3 emission sources. This prioritization will help agencies determine how to get the most out of limited resources for Scope 3 mitigation. It will also assist in developing more informed targets at the operating unit and site level.
While this online resource currently provides guidance on prioritizing business travel and employee commuting, it is recommended that agencies include estimates of cost and GHG savings from other Scope 3 emission sources, such as contracted solid waste disposal and transmission and distribution (T&D) losses, if they have been evaluated. Pollution prevention teams may have cost and savings estimates for planned efforts to fulfill waste diversion requirements under Executive Order 13514. Facilities energy use managers will likely have Scope 2 savings estimates from planned energy conservation measures, which can be used to estimate associated T&D loss savings. When prioritizing Scope 3 GHG reduction strategies, it is important to first account for the T&D reductions associated with electricity savings as a given benefit of investments made by other parts of the organization, and then prioritize investment decisions across the all remaining Scope 3 emission sources.
Criteria for Comparison
Scope 3 reduction activities may be compared across emission sources using criteria including the:
GHG emissions reduced annually by the target year (2020)
Net implementation costs or savings
Cost effectiveness of investments
Qualitative factors, such as ease of implementation or impact on agency mission
To illustrate, Agency ABC's Site B2 has summarized the cost and GHG abatement potential of each proposed Scope 3 reduction activity in Table 1 below, and scored each against three criteria:
GHG reduction (with a weighting of 50%)
Net program costs (with a weighting of 25%)
Cost effectiveness (with a weighting of 25%)
Table 1. Example Comparison of Scope 3 GHG Reduction Activities and Weighted Scoring for Agency ABC's Site B2
Commute Reduction Program
Annual GHGs Reduced (MTC02e) in 2020
Net Program Cost (Savings) $ 2012-2020
Cost- Effectiveness ($/MTC02e)
Year 1 Investment $
Annual Cost (Savings) $
Ease of Implementation (Easy/ Moderate/ Difficult
Weighted Scoring
Annual GHGs Reduced (MTC02e) in 2020
Net Program Cost (Savings) $ 2012-2020
Cost Effectiveness ($/MTC02e)
 
out of 500
out of 250
out of 250
T&D savings from Scope 2 projects
500
 
Business travel
2,400
$(3,500,000)
$208
$500,000
$(500,000)
Difficult
500
250
80
Carpool/Vanpool program
900
$740,000
$111
$100,000
$80,000
Moderate
188
67
150
Compressed work week program
150
$26,000
$67
$10,000
$2,000
Moderate
31
98
250
Solid waste reduction program
30
$(5,500)
$83
$2,500
$(1,000)
Easy
6
99
200
Bike/walk program
120
$68,000
$100
$12,000
$7,000
Difficult
25
96
167
Telework program
1,150
$2,300,000
$435
$500,000
$225,000
Moderate
240
0
38
Bus program
450
$555,000
$167
$75,000
$60,000
Moderate
94
75
100
Total
5,700
$183,500
The weighted scores are totaled in Table 2 below and used to rank-order all Scope 3 activities. Based on the weighting factors assigned by this site, business travel reduction, a carpool/vanpool program, and a compressed workweek program would be the top priorities for this site to advance. It is important to note that changing weighting factors, for example to de-emphasize either cost or GHG abatement, could have a significant impact on total score and ranking of each program. These weightings were chosen for illustration purposes and could be varied based on agency needs.
Table 2. Prioritization of all Scope 3 Emission Reduction Activities for Site B2
Operating
Site
Commute Reduction Program
Rank
Score
% of Scope 3 Emissions
Program B
B2
T&D savings from Scope 2 projects
1.7%
Program B
B2
Business travel
1
830
8.0%
Program B
B2
Carpool/Vanpool program
2
405
3.0%
Program B
B2
Compressed work week program
3
379
0.5%
Program B
B2
Solid waste reduction program
4
306
0.1%
Program B
B2
Bike/walk program
5
288
0.4%
Program B
B2
Telework program
6
278
3.8%
Program B
B2
Bus Program
7
269
1.5%
Total
19%
Total Scope emissions (MTC02e)
30,000
Setting Internal Scope 3 Reduction Targets
As part of Step 6 in the GHG mitigation planning process, a Federal agency needs to determine the appropriate internal goals for reducing emissions based on the potential and cost for reducing emissions at each operating unit and/or site.
A key premise behind this portfolio-based approach to GHG management is that agencies can achieve their targets more cost effectively by focusing on specific activities that may be most impactful or parts of the organization that have the greatest reduction potential. With an understanding of the relative cost-effectiveness of different GHG reduction activities appropriate internal emission reduction targets can be established. Agencies can move from "peanut butter-spreading" emission reduction targets evenly across all operating units and sites to strategic portfolio planning based on their respective analyses.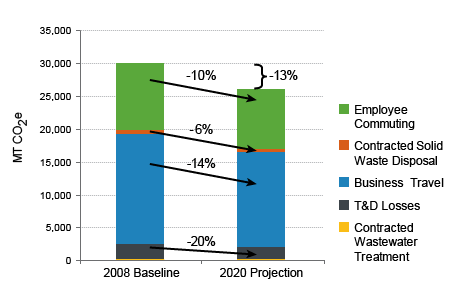 Using the analysis of Site B2 for prioritizing emission reduction activities to illustrate (see Table 2 above), personnel at the operating unit- and site-level worked together to establish a 13% Scope 3 reduction target at that site. This was determined to be viable with available resources. Site B2 will focus its resources on reducing business travel, implementing a carpool/vanpool program, a compressed workweek program, and solid waste reduction efforts. These activities, coupled with expected T&D savings of almost 2%, represent a 13% reduction in Site B2's Scope 3 emissions. This does not mean that other activities, such as telework, should be ignored completely at this site; but they may not be the best near term target for this site's available programmatic and investment resources.
Figure 1 shows the cumulative 13% reduction in Scope 3 emissions and how Site B2 will achieve that target through planned investments in select areas of commuting, business travel, solid waste disposal, and facility energy use projects that will lead to fewer transmission and distribution (T&D) losses.
Feedback
Did you find the information that you needed? Please let us know. FEMP welcomes any feedback on its GHG mitigation content. To provide feedback, see Contacts.