Benchmarking Buildings to Prioritize Sites for Emissions Analysis
YOU ARE HERE:

When a program has access to metered data and/or representative building data, it should benchmark buildings against industry averages.
The process delineated within the main text assumes that the program does not have (or does not have access to) metered data or representative building data.
When actual energy use by building type is known, benchmarking the performance of those buildings to industry averages can help establish those with greatest opportunities for GHG reduction. Energy intensity can be used as a basis for benchmarking by building type and can be calculated using actual energy use, representative buildings, or available average estimates from agency energy records. Energy intensity should be compared to industry averages, such as the Commercial Buildings Energy Consumption Survey (CBECS) or an agency specific metered sample by location.
To use benchmarking to help inform GHG mitigation planning process, programs should evaluate sites with similar building types against each other and industry baselines to better understand where programs should first focus their efforts.
To illustrate, Program B calculates the average energy use intensity for office buildings at all sites as shown in Table 1.
Table 1. Average Energy Intensity Calculations by Site
| Site Name | Building Type | Total Building Energy Use (MMBtu/year) | Total Building Size (SF) | Energy Use Intensity (kBtu/SF) |
| --- | --- | --- | --- | --- |
| Site 1 | Office | 37,500 | 150,000 | 250 |
| Site 2 | Office | 40,000 | 400,000 | 100 |
| Site 3 | Office | 17,000 | 200,000 | 85 |
| Site 4 | Office | 50,000 | 250,000 | 200 |
The average energy use intensity is then compared the buildings to benchmarks (Table 2). Calculations of percent difference from the benchmark are used to rank the potential for energy efficiency upgrades.
Table 2. Ranking for the Potential for Energy Efficiency Upgrades
Site
Building Type
Site Energy Use Intensity (kBtu/SF)
Benchmark Energy Use Intensity (kBtu/SF)*
% difference compared to Benchmark
Rank of Potential for Energy Efficiency
Site 1
Office
200
93
115%
1
Site 2
Office
100
93
7%
3
Site 3
Office
85
93
-9%
4
Site 4
Office
150
93
61% over
2
*Industry averages that can be used for benchmarking include CBECS and ENERGY STAR. While nation-wide CBECS values are used in this example for simplicity, region specific CBECS values by building type can be used instead and may offer a more comparable value for benchmarking.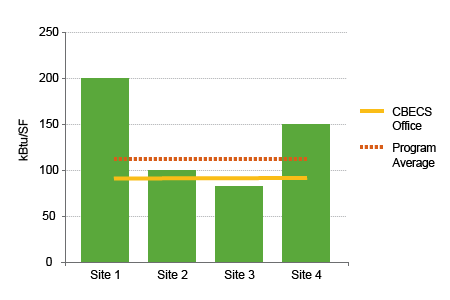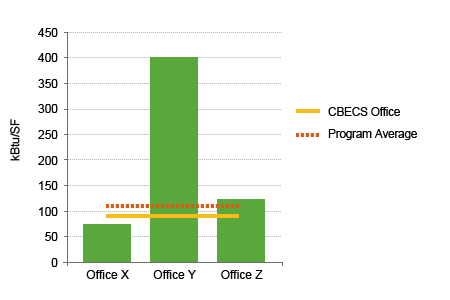 Figure 1 illustrates that office buildings at Sites 1 and 4 have the highest energy-use intensities and are well over industry averages. Program B should thus focus GHG mitigation efforts at offices at these sites first.
Like benchmarking across sites, benchmarking can also be completed within a site if building-specific energy consumption is known. Figure 2 demonstrates how Site 1 would benchmark office buildings X, Y, and Z within the site.
Once the energy use intensities are calculated, sites should identify the characteristics that can affect building energy use and the potential for improvements. Common characteristics include:
3rd party owners that may have no interest in investing in energy efficiency retrofits.
Site/program has not received or allocated funding for energy efficiency upgrades.
Special activities in buildings that are defied as mission critical such as data centers and laboratory use, or providing a necessary service such as a food service deli.
Occupant requirements such as: 24-7 operations, high use of computers, or complaints regarding temperature, which can lead to the use of space heaters, etc.
By assessing the characteristics and programmatic challenges that affect energy intensity, agencies can explore changes to policy, lease contracting, and identify areas for improvement in facilities management. Agencies can also explore integrated solutions to energy management in some of these mission critical building types and those that operate 24-7. These efforts would complement the energy efficiency strategies outlined in Evaluate Greenhouse Gas Reduction Strategies for Buildings and could expedite the implementation timeline.
Feedback
Did you find the information that you needed? Please let us know. FEMP welcomes any feedback on its GHG mitigation content. To provide feedback, see Contacts.