Evaluate Greenhouse Gas Reduction Strategies for Buildings
YOU ARE HERE:

Once key building types and priority sites have been identified, a Federal agency can identify appropriate energy management measures and estimate their impact on each program's building greenhouse gas (GHG) emissions.
To support this evaluation, energy managers can use the Buildings GHG Mitigation Worksheet Estimator in tandem with this guidance to estimate of GHG savings and cost.
Identify Strategies and Estimate Greenhouse Gas Reduction Impact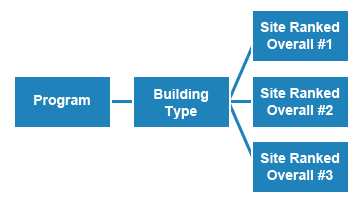 In the previous step, Evaluate Emissions Profile, a program identifies its key building types and sites where those buildings have the most to gain from efficiency improvements. (See Figure 1 below).
Next, programs need to determine what types of building improvement measures are applicable in those buildings across the priority sites. If sites can provide information on the current state of their buildings and applicable measures, programs should work with those key sites to determine the most relevant measures to their building stock. As described in the Data Required to Evaluate Emission Profile for Buildings, the following information may help the sites decide what measures are most applicable:
Ownership
Buildings with planned projects
Year built or of last major renovation
Level at which specific energy management strategies have been adopted
Operating characteristics.
For simplicity, sites may assume that three categories of measures can be applied to their buildings:
Retro commissioning (RCx)
Standard retrofits
Major renovations
RCx activities typically identify operation and maintenance opportunities (e.g. recalibrating building HVAC controls), while standard and major renovations typically involve upgrading equipment. Standard retrofits may be part of a major renovation activity.
Each priority site can estimate the proportion of total square footage within each building type that best matches the needed type of improvements. As an example, Site 3 within Program B found that 40% of office building floor space could benefit from RCx, 20% from standard retrofits, and 10% from major renovations. The remaining 30% of floor space is not likely to benefit from these measures (or they would not be cost effective). Similar analyses were conducted at Sites 3 and 4, as illustrated in Table 1.
Table 1. Program B Example - Evaluation of Potential Retrofit Measures in Offices by Site
| Site | Retro-commissioning | Standard Retrofit | Major Renovations | No Retrofits |
| --- | --- | --- | --- | --- |
| Site 3 (Chicago) | 40% | 20% | 10% | 30% |
| Site 2 (Seattle) | 30% | 10% | 0% | 60% |
| Site 4 (Miami) | 50% | 15% | 15% | 20% |
Once the program understands what measures are applicable to measures for the buildings, the program can use energy and emissions reduction estimates for each building type to arrive at an aggregate program-level reduction estimate. The example in Table 2 shows the areas that will need to be calculated. The Buildings GHG Mitigation Worksheet Estimator can support this analysis.
Table 2. Program B Example - Emission Savings Estimates in Offices by Sites
Site
Total Office Floorspace (KSF)
Category of Energy Savings
Percent of Applicable Floorspace
Energy Savings (kBtu/SF)
Emission Reduction (MT CO2e/KSF)
Total Emission Reduction (MTCO2e)
Site 3 (Chicago)
2,200
RCx
40%
20.8
2.0
1753
Standard Retrofit
20%
33.3
3.9
1699
Major Renovations
10%
42.0
5.3
1159
Site 2 (Seattle)
4,500
RCx
30%
25.5
1.8
2464
Standard Retrofit
10%
40.4
3.2
1420
Major Renovations
0%
49.8
0
0
Site 4 (Miami)
2,200
RCx
50%
13.4
1.4
1521
Standard Retrofit
15%
29.4
3.4
1138
Major Renovations
15%
39.9
5.3
1752
Total Program B Emission Reduction Potential in Offices
12,907
After evaluating the emission reduction potential of office buildings, Program B can evaluate other key building types (i.e., storage and hospital facilities) using the same approach. Once all key building types are evaluated, the program should prioritize the opportunities by building types and sites for implementation.
Additional Resources
For more information, see Additional Resources for Estimating Building Energy Savings to Reduce Greenhouse Gases.
For information on energy-saving measures for buildings, see the following:
Next Step
In the GHG mitigation planning for buildings process, the next step is to estimate the cost of implementing GHG mitigation strategies.
Feedback
Did you find the information that you needed? Please let us know. FEMP welcomes any feedback on its GHG mitigation content. To provide feedback, see Contacts.