Assess Site Factors That Affect Employee Commuting Options for Greenhouse Gas Profile
YOU ARE HERE: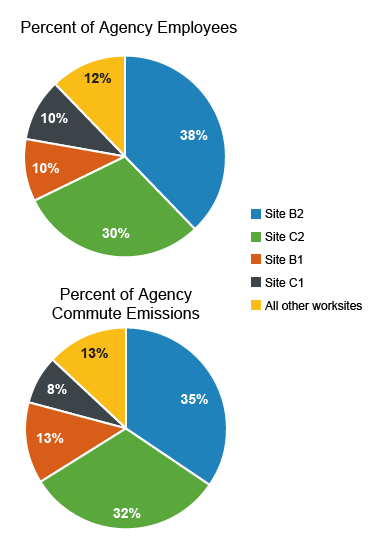 After establishing an employee commuting behavior baseline for evaluating a greenhouse gas (GHG) profile, analyze the specific characteristics of the agency's major worksites to help determine which alternative commute methods and work arrangements are viable and what types of strategies may be most effective for promoting those alternatives. It is recommended that worksite-level data collection focus on worksites with the:
Largest number of employees, or clusters of worksites with large employee populations in an area with diverse commuting infrastructure options (e.g., Washington, DC, metropolitan area)
Greatest proportion of total commute emissions
Highest commuting emissions per person than agency average.
While large numbers of employees and emissions often align, it is helpful to look at both to determine which sites are particularly commute-emissions intensive. These sites may have greater opportunity to benefit from incremental commute behavior changes. Furthermore, for agencies in leased spaces, the expiration of leases at such sites may present the opportunity to relocate to sites with improved commuting options, if cost and mission considerations also support such a move.
To illustrate how an agency might identify worksites for more detailed data collection, see Figure 1. Agency ABC has a national presence but 88% of its employees work at four primary locations. Together these employees also contribute 88% of the agency's commute-related emissions. The agency will focus its detailed analysis on those four worksites initially, and apply some default assumptions about available alternatives to the remaining worksites (e.g., that only carpooling and teleworking are viable at those sites).
Once priority worksites are identified, the data elements outlined in Table 1 below will provide a better understanding of viable commute options and support needs at those worksites. The ETC may be the best person to conduct the worksite analyses and update them periodically.
Table 1. Data to Help Characterize Worksites
Data Element
Examples
How it Supports Planning
Existing transportation programs/ incentives and participation levels

$25/month bus subsidy used by 10% of employees
Regional transit authority offers rideshare matching used by 2% of employees

Help assess impact of existing programs on adoption
Existing mass transit services and proximity to worksite

Bus – 2 routes within 0.25 miles of worksite
Commuter rail – multiple routes within 0.5 miles of worksite

Focus site-specific communications and incentives on commute methods that are relevant to the worksite
Transportation programs of other nearby employers
Neighboring business has ride-share matching program
Expand network of potential riders and leverage an existing resource for carpooling
Highway access including HOV lanes
Access from freeway with HOV lanes
Determine whether commute time benefits of ridesharing can be promoted
Number, price, location, supply vs. demand, and assignment of parking spaces

1 space/employee next to facility
Free parking
No dedicated spaces for carpools, vanpools

Determine whether certain parking management and travel allowance strategies (i.e., payments provided to employees instead of a parking subsidy) may be relevant
Existing bicycle and pedestrian infrastructure and environment

1 shower/locker facility for 500 employees in 6 buildings
Secure parking for 20 bicycles
Bicycle lanes on major routes to worksite
Poor pedestrian access/limited walkways near worksite
Walk Score of 8 out of 100

Determine need for infrastructure improvements. Assess walkability of potential new facilities.
On-site transportation need and availability

Campus spans 1 mile, not all facilities walkable
No shuttle service available

Determine when on-site transit would reduce need for personal vehicle access during workday
Availability of on-site or nearby services

Multiple restaurants
No childcare
ATM on-site

Determine need to provide space for services or encourage businesses to locate in the vicinity
Current alternative work arrangement policies at the worksite
Telework option available to all employees except hourly employees
Determine need to establish new policy or promote existing policy.
When a detailed site-level analysis is not feasible, general assumptions may be used to characterize alternatives available to employees at those locations:
Availability of transit rail - This option is limited to about 50 U.S. metropolitan areas. A current list may be found on Wikipedia.
Availability of bus - A current list of cities with bus service may be found on Wikipedia.
Availability of carpool/vanpool - Carpools and vanpools can be organized by an employer at any worksite, and may be facilitated by existing regional transit authority program. A number of web-based resources can help employers determine existence of rideshare programs.
The CommuterChoice.com program-sponsored by the U.S. Environmental Protection Agency, U.S. Department of Transportation, and Transportation Demand Management Institute–also provides detailed information on commute resources for several major metropolitan areas.
Next Steps
For evaluating a GHG emissions profile for employee commuting, also learn how to:
After evaluating a GHG emissions profile, the next step in GHG mitigation planning for employee commuting is to evaluate GHG reduction strategies.
Feedback
Did you find the information that you needed? Please let us know. FEMP welcomes any feedback on its GHG mitigation content. To provide feedback, see Contacts.