Evaluate Greenhouse Gas Reduction Strategies for Employee Commuting
YOU ARE HERE:

This section will help agencies to determine the most visible alternatives to single occupancy vehicle (SOV) commuting at the agencies major worksites establish the number of employees that may reasonably switch to non-SOV methods and estimate the resulting impact greenhouse gas (GHG) emissions at their worksites. Learn how to:
Identify Employee Commuting Alternatives
Alternative employee commuting approaches for Federal agency consideration include both alternative travel methods and alternative work arrangements. Alternative travel methods directly reduce single-occupancy (SOV) trips or reduce the GHG emissions associated with SOV trips, whereas alternative work arrangements have the potential to reduce SOV trips. Working from home will reduce commute emissions. Increasing employee scheduling flexibility to better accommodate transit or ridesharing arrangements may also reduce the emissions.
A number of supporting strategies can help expand the choices of commute methods and work arrangements available to employees. Such strategies can also help remove barriers and encourage the use of the already available alternatives.
Tables 1 and 2 below provide guidance on how to assess applicability of alternative travel methods, flexible work arrangements, and best practices for their use.
Table 1. Determining When and How to Promote Use of Alternative Travel Methods and Supporting Strategies
Alternative Travel Methods
When Applicable
Best Practices
Carpool

An option for virtually all worksites
Employees with longer commutes ( >10 miles and >20 minutes) are best carpool candidates

Promote the program and available incentives at the worksite level, leveraging web tools such as Nurides, Goloco and other ride-matching programs
Identify and contact prospective carpoolers (may use simple intranet form)
Offer personalized assistance with ride-matching, such as rideshare formation meetings
Partner with nearby employers to increase likelihood of rideshare placement
Support maintenance of matched carpoolers by providing guidance on carpool etiquette/rules and following up on status

Vanpool

Best for long-distance commuters (>15 miles is typically cost effective)
Home area clusters of 15 to 30 employees exist with 1-2 miles
Sufficient demand for at least 50% of van passenger capacity (number of seats filled) to start

Promote the program and available incentives at the worksite level
Identify geographic clusters with prospective vanpoolers and screen for interest and compatibility with schedule
Identify and leverage any existing vanpools in the transit area
Hold vanpool formation meetings and facilitate recruiting of riders/drivers
Offer subsidies
Support maintenance of vanpools by establishing rider/driver agreements and other required paperwork, and following up on status

Transit service (Bus, Metro, Commuter rail)

Service available within .25 mile of worksite and near employees home
Transit schedules match worksite schedules
Safe access between transit stops and worksite

Locate agency facilities within ? mile of walkable high frequency transit service (rail or bus rapid transit).
Make transit route information readily available to employees
Promote the program and available incentives at the worksite level
Offer subsidies
Work with transit agency to improve schedules, routes, as appropriate

Bicycle or Walk

Walking best as a primary mode of travel to the worksite for employees living within 2 miles of worksite
Bicycling best as a primary mode of travel for employees living within 5 miles
Must have safe and direct pedestrian and bicycle access to worksite
May only be a seasonal alternative at worksites with highly variable weather conditions
Can serve as a feeder mode to connect with transit or ridesharing for longer trips

Assess the area surrounding the worksite for safety
Provide secure bicycle parking/storage, lockers, and showers facilities
Educate bicyclists and pedestrians on safety precautions and provide maps and information on safe travel routes

See "Implementing a Successful Bicycle and Active Commuting Program in the Washington, DC Metropolitan Area" for more information on best practices and safety tips.
Table 2. Determining When and How to Adopt Alternative Work Arrangements
Alternative Work Arrangement
When Applicable
Best Practices
Telework

Potentially applicable to employees at all worksites. May be a good option for workers in remote locations or those who work irregular hours, which can limit alternative commute options.

Specific telework eligibility criteria should be established by an agency Telework Coordinator. Managers at worksites should use the criteria to assess who in their workgroup is eligible to participate in telework.

Which positions? Teleworking is typically applicable for any job that can be performed at least part time away from the office. Exceptions can include jobs in which secure materials are handled or on-site activities, such as forest ranger duties or medical exams, are required.

Which employees? Teleworking is typically best-suited for employees with:

strong time management skills
above average performance
ability to work with little direction.

Cast as broad a net for job eligibility as possible
Educate workforce about the program
Train managers and teleworkers
Develop a telework agreement for use between teleworkers and managers
Address managerial resistance to telework
Establish equipment needs and standards to enable safe, secure teleworking
Provide reliable system and relevant training for remote access to worksite data and servers

See Telework.gov for a complete list of best practices for implementing successful telework programs

Compressed work schedules (4/10s or 9/80s)
Manager determination that such schedules will not:

reduce productivity of specific job categories/employees at the worksite
diminish the level of services provided by specific job categories/employees at the worksite
increase cost of worksite operations.

Legal counsel review that specific state and Federal labor laws do not prohibit employees at the worksite from participating.

Establish schedules that work best for the worksite
Promote the program via intranet and orientation sessions
Monitor program to ensure no adverse impacts

Flex-time or Gliding Work Schedule
Same as above

Can help employees to better accommodate public transit and ridesharing arrangements.

Same as above, and

Provide start/end time schedule preferences to those with ridesharing arrangements
When evaluating the supporting strategies will best encourage commute method switching by employees at a worksite, it is important to consider the factors that most influence employees' commute option choices. These typically include cost, time, convenience, safety, and access to a vehicle, and can be informed by survey results for the worksite. Strategies that address these factors and their usefulness in promoting different alternative travel methods are described in Table 3 below. For example, subsidies and travel allowances directly lower the cost of commuting for the employee, whereas improving on-site amenities, such as restaurants, can save time by eliminating the need to travel longer distances to access those services during the workday and can improve convenience.
Table3. Supporting Strategies to Encourage Use of Alternative Commute Methods
Supporting Strategies
Examples
When Applicable
Facility siting near transit

Relocate leased facility from rural to urban area with significantly greater transit options

When facility leases are expiring
When if cost and mission considerations also support such a move

Subsidies

Vanpool subsidy (for start-up or on continuing basis)
Empty seat subsidy to limit amount startup riders have to pay until new riders join.
Transit subsidy or voucher
Bicycle maintenance subsidy program approved by the IRS ($20 month)

Can support all alternative commute methods
Work best at worksites where solo drivers have to pay to park and rideshares are allowed to pay a reduced fee

Travel allowance

Every employee at site receives $50/month, which is equal to the cost of a bus pass but less than the cost of parking
Parking cash-out, where employees take the cash value of forgone parking provided by the agency

Can support all alternative commute methods
Works best at worksites where employees are required to pay for parking and where parking is scarce
May also work when the agency can generate revenue from leasing the space to other employers

Rewards and other incentives

Periodic prize drawings for trying an alternative or meeting a use goal (e.g. new bicycle helmet for biking 50% time, gift certificates)
On-sites services (e.g. quarterly bicycle maintenance service or repair tools and spare inner-tubes on-site, Annual car tune-up for carpoolers)

Can support all alternative commute methods

Facility enhancements

Shower facilities
Lockers
Secure bicycle storage or racks
Covered bicycle parking

Important to bicyclists and walkers

New telework facilities

There is high density of employees in central locations far from worksite and employees may require access to office services (e.g. copying, conference phones)

Parking management

Pricing of parking (e.g. begin charging, give discount for rideshare parking)
Preferential parking (e.g. designated carpool/vanpool spaces)
Parking supply reduction

Can support all alternatives
Works best when worksite parking is in tight supply
Works best when free or inexpensive parking options are not available near the site

Guaranteed ride home service

Taxi service
Shuttle service/Dial-a-Ride
Short term auto rental (for employees needing to travel >40 miles)
Back-up vans

Important to users of all alternative commute methods
Sites may establish specific eligibility requirements
Use when local jurisdiction does not have a guaranteed ride home program that the worksite can use

Ride-matching

Annual rideshare meet and greet events
Ongoing registration forms and matching services

Essential for carpool and vanpool programs
Provide if regional transit authority does not offer ride-matching support

On-site services

Cafeteria
ATMs
Daycare
Dry cleaning pick-up
Postal services
Fitness center

Worksites with limited access to basic amenities

Commuter information resources

Intranet site with worksite specific commute resources
Commute information center/bulletin board in major facilities
New hire orientation commute information

Can support all alternative commute methods

Shuttle services

On-campus shuttle (on-demand or circulating)
Shuttle service between transit station and worksite

Can support all alternative commute methods
Worksites with multiple buildings over location that is not easily walkable
Worksites with transit options more than 0.5 miles from worksite
Consider only after consulting with local transit on potential to bring transit closer to worksite

General promotional activities

E-newsletters
Workgroup presentations
Travel options Intranet site

Content may include:

Updates on alternatives
Annual agency and worksite performance updates
Recognition of employees who have adopted alternatives; highlighting senior managers can help demonstrate management commitment
Reports of personal benefits realized (e.g. Alice saved $125 in fuel costs last year by traveling by bus 3 days/week)

Can support all alternative commute methods
Whether an agency is promoting alternative travel options and/or alternative work arrangements, the specific strategies selected at the worksite level should be based on the data analysis for major worksites conducted for those worksites in Evaluating Emissions Profile for Employee Commuting. Generally speaking, multiple strategies will be required to serve the varied interests and needs of a large population of employees. Offering financial incentives (e.g. transit subsidies) and disincentives (e.g., parking pricing) has been found to be one of the most useful and cost-effective options. While providing information on commute alternatives is an essential part of any commute reduction strategy; research has shown that information alone is unlikely to result in significant reductions. (See the Commuter Choice Primer on the Research and Innovative Technology Administration website.)
Evaluate Adoption of Employee Commuting Alternatives
To launch a successful employee commute reduction campaign, a Federal agency should estimate the number of employees that will likely use an alternative work arrangement or commute method. A simple way to estimate emissions impact is to consider the number of employees at a worksite that might adopt an alternative then calculate emissions using general assumptions about how frequently a new option is used. There is no definitive way to come up with estimates of the number of employees that may adopt alternative commutes. The results of the worksite and survey analysis can provide a well-informed estimate but will require use of judgment from individuals who understand the specific worksite dynamics.
To estimate how many employees will use an alternative work arrangement, consider survey findings on
Current number of employees using telework and compressed work week, and how frequently they use those schedules (e.g. work 4/10s, telework 1/day/week)

Number of employees willing to try telework or use a compressed work week schedules

Number of positions at the worksite deemed eligible to telework or to participate in a compressed work week

Willingness of worksite management to implement strategies that overcome identified barriers.
To illustrate, at Agency ABC's largest worksite, B2, currently just 100 employees out of nearly 5,000 telework regularly (from 1 to 3 days per week), so it is assumed that there is substantial improvement opportunity. The survey results revealed high interest in teleworking at the worksite, with 58% (2,900) of employees expressing a willingness to try it. An assessment of telework fit with jobs at the worksite concluded that just 35% of employees were currently eligible to telework due to a high demand for onsite equipment maintenance activities. The management team for the worksite is committed to address key barriers to teleworking for eligible workers, including working with department managers to overcome resistance, ensuring that teleworkers have the necessary information technology equipment, and creating a telework promotion campaign. The Telework Coordinator at site B2 estimates approximately 1,000 employees will telework at some level by the target year of 2020 (58% willing x 35% eligible x 5,000 total employees).
The Telework Coordinator uses a similar approach to determine that another 300 employees could transition to some form of compressed work week schedule.
Table 1. Worksite B2's Estimated Number of Employees that Will Adopt an Alternative Work Arrangement
Alternative
Potential Number of Employees Switching
Telework
1 day/week
700
2 days/week
250
3 days/week or more
50
Compressed work week
Work 9/80s
200
Work 4/10s
100
To estimate how many employees will use alternative commute methods, consider survey findings on:
Current number of employees using each travel method (i.e., bicycle, walk, carpool, vanpool, bus, rail)

Number of employees willing to try each travel method

Available alternative commute options and infrastructure characteristics

Number living in ideal distance ranges for different commute methods (e.g,. 2 miles for walking)

Willingness of worksite management to implement strategies that overcome stated barriers.
Agency ABC's worksite B2 would like to estimate the number of employees that may switch to carpooling as a primary commute method. Currently about 5% (235) of employees carpool to the worksite, but there is high willingness (over 50%) to try carpooling, particularly compared to other methods. About 25% (1,200) live in the range in which carpooling is most often used (<10 miles from work). However there are a few conditions at the worksite that may limit switching to carpool in practice. First, commute time is a key influence on commute methods use. Because there are no designated high occupancy vehicle lanes in the area, there is no expected time saving benefit. Also, there are no ride-matching resources and the worksite is not able to provide this level of support. With ride-sharing resources and the time saving benefit, it may be reasonable to estimate that up to 600 employees could potentially adopt carpooling at some level 600 employees (about 50% willing X 25% well positioned to benefit). Without this support however, the worksite conservatively estimates that it can increase those who use carpooling as a primary method by just 200 employees.
The employee transportation coordinator at worksite B2 uses the same approach to come up with estimates for other alternative commute methods as summarized in Table 2.
Table 2. Worksite B2's Estimated Number of Employees That Will Adopt an Alternative Commute Method
| Commute Method | Potential Number of Employees Adopting Method |
| --- | --- |
| Carpool | 200 |
| Vanpool | 50 |
| Bus | 100 |
| Transit Rail | 0 |
| Commuter Rail | 0 |
| Bicycle | 25 |
| Walk | 15 |
Estimate the Greenhouse Gas Emissions Impact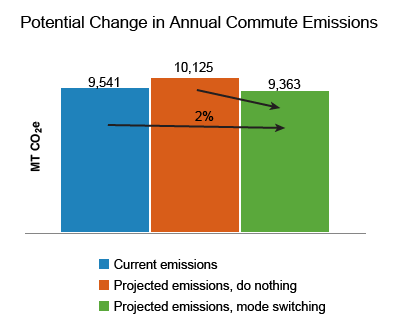 Once the number of employees likely to adopt different commute methods has been determined, the Commute Method Switching Impact Tool can be used to help estimate the GHG reduction impact from method switching. This would ideally be done at the worksite level based on data corresponding with worksite location if provided in the survey, or alternatively for data corresponding with major metropolitan areas based on zip codes.
Figure 1 shows an example output from the Commute Method Switching Impact Tool for Agency ABC's major worksite, B2. Using estimates of the number of potential commute method-switchers, it is projected that the worksite can reduce its current emissions by 762 metric tons of carbon dioxide equivalent (MTCO2e) per year to 9,363 MTCO2e. Because the worksite is expecting a 6% increase in the number of employees by its target year, it has to compensate for that growth as well. So while it can reduce emissions by 7% from its projected emissions without method switching, this represents just a 2% reduction from its baseline emissions.
Next Step
After evaluating GHG reduction strategies, the next step in GHG mitigation planning for employee commuting is to estimate the cost of implementing strategies.
Feedback
Did you find the information that you needed? Please let us know. FEMP welcomes any feedback on its GHG mitigation content. To provide feedback, see Contacts.