U.S. Department of Energy - Energy Efficiency and Renewable Energy
Federal Energy Management Program
Water Rate Escalations
Federal agencies need accurate water cost escalation rates to perform life cycle cost analyses for water efficiency projects to meet Executive Order 13514 and Energy Independence and Security Act of 2007 requirements. To estimate long-term escalation rates of potable water, Pacific Northwest National Laboratory (PNNL) conducted an analysis that includes:
Using the trends from this study, Federal facility managers can select escalation rates from studied cities with similar circumstances to their facility locations such as U.S. region, water source, or drought tendencies. Also they can make more informed choices on possible water escalation rates that can be used in economic analysis of water efficiency projects.
For a complete version of the PNNL report, download the Analysis of Water Rate Escalations Across the United States.
The analysis was based on historical water rate data published by the American Water Works Association (AWWA) and independent financial consultants. AWWA has been collecting water rate data from local water utilities over the past 14 years. PNNL conducted the analysis because there are no published data on national water escalation rates. Some water utilities may provide specific information to rate payers on expected increases in water rates, but this information is not always available or provided over a long period.
Water Escalation Rates of Selected U.S. Cities
PNNL analyzed water escalation rates of potable water supply for 24 U.S. cities, which were selected based on relative proximity to U.S. Department of Energy and other Federal agency facilities.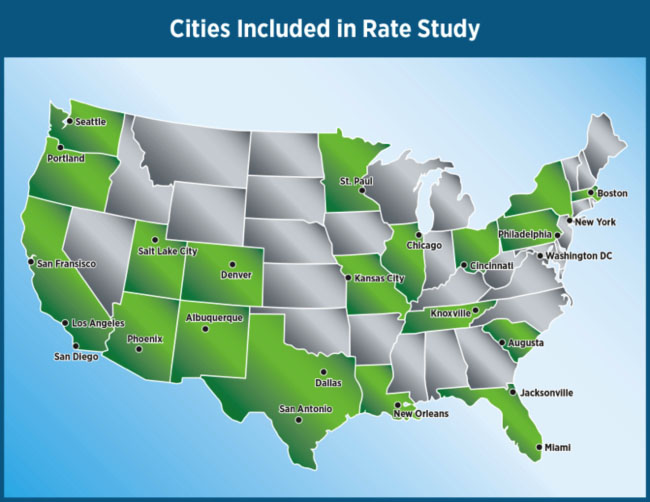 For each city in the study, PNNL analyzed escalation rates between 1993 and 2007 for non-manufacturing/commercial and industrial water costs. Escalation rates were calculated similar to the way inflation rates are calculated. In this analysis, the escalation rate is the rate that makes the nominal 1993 water cost equivalent to 2007 water costs. Typical long-range annual escalation rates ranged between 4% and 8%. These estimated escalation rates are based on historical trends and may not indicate future changes in rates. But in the absence of local water escalation rates, these rates may be useful for analyzing the life cycle cost effectiveness of water efficiency projects.
Water Rate Trends
Water rates were compared by inflating the 1993 and 2007 costs to equivalent 2009 dollars and then calculating the percent change from the 1993 costs. Nonmanufacturing/commercial rates and industrial rates were compared separately. The following discusses the trends by geographic region, water source, and drought trends. Note: the number of cities in the analysis is relatively small, so the analysis reveals possible influences on water rates, not exact escalation rates.
Geographic Regions
The selected cities were divided into the following geographic regions based on general climate regions and existing groupings from published water rate surveys:
West Coast: San Francisco, California; Portland, Oregon; Seattle, Washington

Southern California: Los Angeles, California; San Diego, California

Midwest: Chicago, Illinois; St. Paul, Minnesota; Kansas City, Missouri; Cincinnati, Ohio

Southwest: Phoenix, Arizona; Denver, Colorado; Albuquerque, New Mexico; Salt Lake City, Utah

Southeast: Jacksonville, Florida; Augusta, Georgia; New Orleans, Louisiana; Knoxville, Tennessee; Dallas, Texas; San Antonio, Texas

Northeast: Boston, Massachusetts; New York, New York; Philadelphia, Pennsylvania; Washington, D.C.

Tropic: Miami, Florida
Rate increases were highest in cities along the West Coast and in the Southwest, rising by more than 90% between 1993 and 2007. Cities in the Midwest experienced the lowest rate increases, between 12% and 17% over the analysis period.
Water Source
When local water utilities reported water rates to the AWWA, they also reported the water source. The AWWA lists the water sources as ground, surface, purchased from another water utility, or a mix of water sources. Rates increased the most for utilities that sourced their water from surface waters or mixed waters, more than 50% during the analysis period. Rates increased the least for utilities that sourced their water from groundwater sources, rising by an average of 29% over the same period.
Drought Trends
The National Drought Mitigation Center (NDMC) has collected detailed weather data used in the analysis of long-term drought patterns and trends. The NDMC has published a detailed map with 100 years of drought data between 1885 and 1995. The NDMC used the Palmer Drought Severity Index (PDSI) as the drought indicator to show how stressed the water supply is. The PDSI measures relative soil moisture in a given area. A PDSI of 0 equates to normal conditions. Drought conditions are shown as negative PDSI values, with negative 3 or greater indicating a severe drought.
The PNNL study examined the occurrence of severe drought in the sample cities and examined the possible effect this may have on the escalation of water rates. The analysis grouped cities based on the calculated length of time spent in long-term drought conditions and then correlated this value to the average water rates. Although the sampling of cities is small in the analysis, there is a pattern of increased water rates in cities that commonly experience severe drought. For example, Denver has both the highest annual escalation rate and the highest occurrence of severe drought. Other cities with relatively high escalation rates—such as Salt Lake City, Albuquerque, and San Antonio—also are vulnerable to severe drought.