Preliminary Design (15%)
The preliminary design (15%) phase converts design requirements and design charrette results to an initial design layout. This stage allows for consideration of potentially numerous renewable energy technologies. It may only consist of an overall idea of the building layout along with notes and single-line drawings to represent complicated building systems.
If this initial design layout is done prior to considering renewable energy, many technologies can be effectively eliminated from use. If an agency brings on architects to do this early layout prior to hiring the final design firm, the same rules for renewable experience and knowledge apply to both the conceptual designers and the final design firm.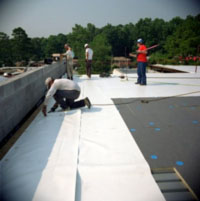 Energy efficiency should always be considered first as it will often be more cost-effective than adding additional capacity to selected renewable energy technologies. Information from the renewable energy screening should inform which renewable energy technologies are considered for inclusion.  The most common renewable energy technologies and tips for integrating them successfully are outlined within strategies for effective design. Regardless of the renewable energy technology being considered, the less energy a building uses the less energy needed from renewable energy systems. 
Renewable energy system size and associated cost impacts should be considered when evaluating the inclusion or exclusion and particular design strategy. Strategies that may not appear to be cost effective with the consideration of only cost and direct energy savings may be cost effective with the savings from the reduced renewable energy technology capacity required to meet the project goals. Similarly, design strategies with an energy penalty that may be considered for first-cost savings need to consider any increase in renewable energy technology capacity and associated cost that would be required to maintain the project goals.
Information available to and used by energy analysts of this early stage of the design process can provide insights regarding the potential impact of a given renewable energy technology in helping meet project goals. At this point of the design, information from the energy simulation work can provide valuable feedback on which strategies may be best for a building's architectural and energy-using systems and which renewable energy systems may perform best in conjunction with these strategies. Changes made at this point in the design can be done with little impact to the overall construction schedule or budget.