Measurement and Verification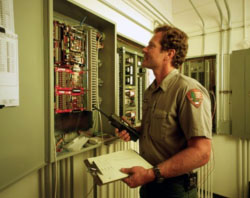 Measurement and verification (M&V) play a vital role in renewable energy projects. M&V verifies verify that renewable energy technologies successfully meet the energy generation or savings requirements as specified by the agency and the system design.
Federal sustainable building guidelines require M&V systems for sustainable building projects and the use of M&V data for benchmarking systems. However, these systems deliver value well beyond regulatory compliance. They provide measureable, actionable data that allows agencies to optimize equipment and get the most out of renewable energy technology investments.
Systems for Agency-Funded Projects
For an agency-funded renewable energy project, it is critical that the agency include M&V considerations in the early stages of the project. When selecting a design team, the agency should look for firms with proven experience in implementing M&V systems and accurately measuring energy output in sustainable building projects.
In the project's design requirements, the agency should specify an M&V system that can:
Provide operations and maintenance (O&M) staff with real-time logged performance data along with corresponding weather conditions.
Predict appropriate system performance based on data that allows O&M personnel to easily verify system performance is within normal range.
Any M&V for renewable energy systems must also measure weather-related data to determine if performance issues are due to current conditions, such as no sunlight, or if an actual problem exists. For example, M&V technology for a photovoltaic (PV) system should measure parameters like solar irradiation levels, temperature, and wind speed. That data should be included in calculating the expected performance range for the system during various conditions.
While measurement and verification systems are usually installed by the contractor as part of the renewable energy system, it is important to have it commissioned by an independent, third-party commissioning agent. Besides confirming proper operation and installation, the commissioning agent must oversee the independent verification of all measured parameters and ensure that the calibration of equipment is adjusted if necessary. Some equipment may need to be re-calibrated on a regular basis by factory-trained personnel to meet required standards. The commissioning agent should also ensure that operational procedures for the M&V system are thoroughly documented and included in the O&M manual.
Systems for Projects with Renewable Energy Project Funding
For a renewable energy project with separate project funding, an M&V system is typically included as part of the arrangement with the energy service company (ESCO) or utility company. Payments to ESCO are based on energy production or energy savings data produced by the renewable energy system and are recorded based on data from the M&V system.
For example, if an agency used separate project funding for the PV system incorporated into a building construction project, they may not own the system but contract a service provider a certain amount per kilowatt-hour generated from the system. The M&V system provides the energy output readings used to calculate payments to the provider. In this case, the M&V systems will likely be designed, built, and managed by the ESCO. The agency should specify that this M&V system be verified in commissioning and coordinated with other M&V systems in the building as appropriate.
Versatility of Measurement and Verification Output
An M&V system can easily pay for itself. By identifying performance issues, it allows O&M staff to make the adjustments or repairs necessary to optimize performance and maximize savings. Once verified, M&V technology can also help inform commissioning by measuring and providing data on system performance.
Federal objectives for renewable energy technologies include educating the public and building staff to support alternative energy sources. Measurement and verification systems can serve as a powerful tool in this effort. For example, a Federal agency might set up a visitor kiosk with information on the renewable energy technologies incorporated into its facility and include a link to online M&V data on how much energy the technologies are currently generating and over the project's lifetime. Simple metering can even show how many tons of CO2 are being prevented from entering the atmosphere.
Future of Measurement and Verification Systems
Measurement and verification systems are developing at a rapid rate, especially technology that allows facility owners to see the combined functions of all the renewable energy systems on the building. By providing an Internet connection with the M&V systems, the output can be viewed by multiple people in real time. O&M personnel, commissioning agent, the facility manager, and other interested parties can all have password-protected access to view all the system parameters.
Remote monitoring of renewable energy systems allows the use of programmed alarms and even automatic e-mails to be sent when the system is not performing properly. Managing advanced system controls, especially between many different types of equipment, becomes a programming issue rather than a much more expensive hardware issue. Repairs can be made in days instead of months, vastly improving overall energy performance.
Sophisticated M&V systems can also reduce commissioning costs by allowing the commissioning agent to view most system parameters remotely. With extensive data logging capabilities, this new generation of M&V systems provides long-term performance data that is easily imported into spreadsheets for detailed analysis.
Finally, the O&M personnel and the commissioning agent can check the building's operation in a variety of conditions year round without having to be physically present for all operating conditions.