Commissioning

Commissioning renewable energy for new construction projects and major renovations requires special consideration in selecting the commissioning agent and team, developing the specifications, conducting the full commissioning process, and integrating measurement and verification (M&V) systems.
Commissioning can reduce overall costs related to construction deficiencies and ensure more efficient building and systems operation. For new construction projects or major renovations with renewable energy systems, commissioning is critical to the ultimate goal of operating all building systems as safely, optimally, and efficiently as their designers intended.
Key Actions for Commissioning
Plan and budget for enhanced, independent commissioning to optimize renewable energy under seasonal variations.
Identify a commissioning agent with demonstrated renewable energy expertise.
Include the commissioning agent in design review processes to identify issues early.
Ensure the commissioning agent has access to renewable energy installers and experts throughout the enhanced commissioning process.
Have facility O&M staff shadow the commissioning agent to learn more about new systems.
Enhanced commissioning, spanning seasonal variations for a year, is recommended for all projects with renewable energy systems and should be considered early in the project development. Basic commissioning ensures that the systems are operational, while enhanced commissioning takes additional steps to investigate and optimize system interactions. Enhanced commissioning not only optimizes energy performance, but it also qualifies for Leadership in Energy and Environmental Design (LEED®) credit.
Through an enhanced commissioning process, the renewable energy system performance and operations are reviewed, enhanced as needed, and verified to ensure they operate seamlessly with other building systems. When renewable energy technologies have seasonal variations in performance, enhanced commissioning optimizes performance for a wide range of operating conditions and not just a single point in time.
Delivering both short- and long-term benefits, enhanced commissioning should be viewed as an investment and not an expense. With renewable energy systems, it ensures not only that the systems are functioning properly, but also that they can be operated in conjunction with other building systems and can maximize performance and savings. Some benefits include:
Improved energy performance and savings
Improved occupant comfort, safety, and productivity
Extended equipment life and reduced warranty claims
Reduced operations and maintenance (O&M) costs.
This overview discusses how renewable energy considerations should be integrated into the commissioning team, commissioning specifications, and commissioning process. Finally, it discusses the importance of measurement and verification with renewable energy systems.
Commissioning Team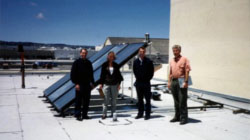 The commissioning team should be formed early in the project. It is critical that skills and technical expertise specific to renewable energy are represented across the team. The commissioning agent is central to an effective commissioning effort, and the agent should have experience with the range of renewable energy technologies and how they are integrated into the building.
The commissioning team must also include experts in each of the renewable energy systems involved and specified as part of any renewable energy subcontractors in construction. In addition to overseeing commissioning of each individual technology, the commissioning agent must be able to assess renewable energy technology performance as part of the overall building operating system.
Timing of the commissioning team selection, particularly the commissioning agent, is also important. Ideally, the commissioning agent should be designated and involved prior to the design development (65%) phase to highlight areas of concern or opportunities for renewable energy system operation and integration.
Budgeting for the commissioning team must be considered early on and must be adequate to cover the commissioning agent's upfront interactions with the design team as well as the additional costs associated with enhanced commissioning. Further information on renewable energy considerations in selecting a commissioning team is available in the commissioning team section.
Commissioning Specifications
When creating specifications for commissioning a facility with integrated renewable energy, the commissioning team must understand how the renewable energy systems integrate with the related infrastructure and equipment. They should plan for the specific impacts that new elements will have on existing building components.
The commissioning team should not only specify the commissioning of renewable energy project individual components, but should also commission all new system controls, the existing building equipment, and the building itself. This helps ensure that renewable energy system performance targets are achieved or exceeded and that the systems work efficiently within the building and its existing equipment and systems.
More information on commissioning specifications is available in the commissioning specifications section.
Commissioning Process
Commissioning is a systematic process consisting of developing system checklists, reviewing designs, testing functional performance, identifying and correcting deficiencies, and developing O&M procedures. When renewable energy technologies are incorporated into a construction project, additional emphasis should be placed on system integration and integrated operations.
Commissioning input in design review can help create an integrated design that operates cohesively. The commissioning team should review design development drafts and construction documents to identify issue with system integration and to focus attention on integration of renewable energy system controls with the building automation systems. This review is critical because efficiencies are lost and costs increase if systems are designed in such a way that the separate components can only work independently.
For most renewable energy projects, functional testing should be scheduled and performed over a longer-term basis. When the expected performance of renewable energy systems varies because of weather patterns or time of year, these systems must be tested under various operating conditions and not simply optimized for a single point in time.
For more information on integrating renewable energy into the entire commissioning process, see the commissioning process section.
Measurement and Verification
For renewable energy systems, measurement and verification systems are crucial for assessing long-term performance, fulfilling Federal reporting requirements, and meeting terms of project funding contracts where applicable.
Developed mostly during the design development phase of a project, M&V systems define project-specific methods and techniques that will be used to verify operation of a variety of systems throughout the project. With regard to renewable energy systems, this can include measuring performance output and assessing it as a function of resource input, or for example, measuring how much energy is produced from a wind system and determining if it is within expected range based on the wind speed at the time.
M&V systems need to be carefully verified during commissioning, including any interactions with building controls. Once verified as accurate at a range of operating conditions, they can be a useful tool in commissioning to get real-time data about the performance of energy systems.
Further information about M&V issues for renewable energy and related protocols is available in the measurement and verification section.
Additional Resources
Additional information is available in the FEMP guide on Commissioning for Federal Facilities: A Practical Guide to Building Commissioning, Recommissioning, and Continuous Commissioning.