Federal Government: Leading by Example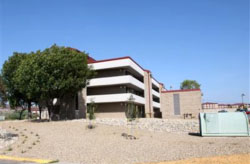 The Federal government plays a vital role in leading by example in environmental, energy, and economic performance. President Obama stressed this importance on October 5, 2009, by stating:
"As the largest consumer of energy in the U.S. economy, the Federal government can and should lead by example when it comes to creating innovative ways to reduce greenhouse gas emissions, increase energy efficiency, conserve water, reduce waste, and use environmentally-responsible products and technologies."
The U.S. has made a strong and clear commitment to paving the way for the Federal government to actively lead by example in the adoption of clean energy technologies and conservation measures, and drive reduction in greenhouse gas (GHG) emissions. Federal new construction and major renovation projects are a strategic and important way to showcase efforts to lead by example.
Federal Leadership through Policy
Annually, the Federal government consumes approximately 1.6% of all energy used in the U.S. at a cost of $24.5 billion to taxpayers. The majority of this usage and cost, 65%, is attributed to transportation while 30% goes to operating the government's more than 500,000 facilities and buildings. A significant opportunity exists to reduce energy consumption in buildings through the integration of renewable energy technologies in new construction and major renovation projects. In turn, the implementation of these technologies reduces GHG emissions and fossil fuel use.
The Federal government has taken measures over the years to lead by example through adoption of environmentally sound energy management policies directed at the Federal sector. In 2006, Federal agencies demonstrated leadership by creating and signing a Memorandum of Understanding on Federal Leadership in High Performance and Sustainable Buildings. This memorandum set forth specific guiding principles for reduced energy use and other sustainable practices in Federal buildings. In December 2008, the guiding principles were revised to update guidance specific to new construction and major renovations in response to additional executive and legislative energy requirements.
Federal Buildings
The Federal government owns or leases more than 500,000 buildings with more than 3 billion square feet of floor space. These structures affect our natural environment, our economy, and the productivity and health of the workers and visitors that use these buildings.
Most energy consumed by these buildings is produced from non-renewable, fossil fuel resources. Given a declining supply of domestic fossil fuel, security concerns over energy supply disruptions, and the global impact of GHGs, the Federal government has compelling reasons to reduce load, increase efficiency, and use renewable energy resources in facilities of all types.
Existing efforts to lead by example have already yielded results. Federal energy management over the last two decades resulted in Federal energy use decreasing by 16% from 1985 to 2007 and related carbon emissions from Federal buildings decreasing by 9.4% from 2003 to 2007.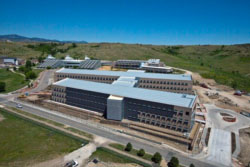 Federal agencies are demonstrating successful efforts by constructing cutting-edge, state-of-the art facilities. These efforts are proving that building integrated renewable technologies are cost effective and deliver optimal performance. These technologies provide many benefits including long-term savings, increased occupant comfort, and a healthier environment.
An example of a new construction building with integrated renewable energy technologies is the Research Support Facility (RSF) located at the National Renewable Energy Laboratory. DOE opened the RSF in June 2010. The Leadership in Energy and Environmental Design (LEED®) Platinum building incorporates a broad range of renewable energy and energy efficiency technologies, serving as a real-life model for how commercial building operators nationwide can cost-effectively reduce energy use and save money on energy bills. For more examples showcasing successful Federal projects, refer to the case studies section.