Outreach
Outreach programs are critical to successfully implementing and using renewable energy systems in new Federal building construction or major renovations. This section covers strategic considerations, building occupant outreach, public outreach, and interagency outreach. Also covered are considerations for agencies developing outreach programs for each primary audience along with links to additional information.
Rather than a "one-size-fits-all" approach, materials and activities should be targeted to three primary audiences: building occupants, the public, and an interagency audience consisting of Federal agencies and organizations planning to construct or renovate similar buildings.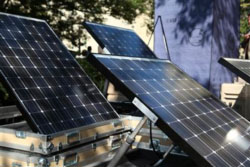 For all audiences, the primary goal of outreach is to increase awareness of and engagement with the new renewable energy technologies to advance their acceptance and adoption.
Building occupant outreach should focus on both the operation and the benefits of efficiency and renewable energy systems for buildings. This empowers occupants to monitor their energy usage and practice energy conservation behaviors.
Public outreach should not only educate, but also demonstrate how building integrated renewable energy systems work. Public outreach methods can range from distributing media packages to presenting onsite information with interactive elements.
Interagency outreach designed to assist Federal agencies with building similar facilities should focus on instructional materials and how-to guides that showcase the successes of the project and describe lessons learned during renewable energy implementations.
Regardless of the target audience, training and outreach programs should present information that encourages people to make informed energy choices in their daily lives. The most effective programs include a blend of educational, instructive, and demonstrative information. They are designed to be flexible—leveraging feedback from the audience and evolving in response to new developments in a highly dynamic industry. Federal agency representatives can maximize these programs by showcasing successes and communicating lessons learned.
Building Occupant Outreach
Energy Awareness programs created through outreach can engage occupants' natural curiosity and interest in their buildings. Educating occupants about the benefits of energy efficiency and renewable energy helps engage them as active participants in energy savings, bringing a higher rate of return on investment for the agency while improving environmental quality and occupant comfort. Federal employees can take immediate action to help reduce energy use and costs. Actions can be as simple as turning off lights when leaving an area for any period of time, to not using copy machines during peak demand.
EPA offers guidelines for energy management to help agencies improve energy and financial performance. EPA also hosts an annual National Building Competition for energy use reduction.
FEMP developed a handbook to help energy managers increase energy awareness and action among employees and building occupants to increase building performance. Agencies can use the Creating an Energy Awareness Program Handbook to gain ideas about successful awareness campaigns. Campaign materials from current and past campaigns can help Federal agencies customize their own energy awareness programs.
Maintaining active participation from building occupants requires ongoing diligence to encourage and reinforce energy-saving behaviors. Some examples of effective educational activities for building occupants include:
The FEMP You Have the Power energy saving checklist displayed in the office to encourage employee participation
Installed energy consumption meter displays that show feedback data to building occupants
Historical energy consumption and renewable energy generation reports for the building that are published and made available to the occupants
Progress reports on achieving compliance with Federal energy requirements with the renewable energy systems
Prominently displayed informational posters, educational briefs, and other materials on the renewable energy systems and energy conservation measures available to building occupants.
Public Outreach
Public outreach on major construction projects that incorporate renewable energy can increase awareness of the economic, environmental, and social benefits of renewable energy and energy conservation. Federal agencies have a unique opportunity to demonstrate the potential and capabilities of renewable energy technologies. Showcasing a newly constructed or renovated building that integrates renewable energy technologies, for example, is an optimal education tool as people can discover and experience operating systems in an applied environment. A well-designed and implemented public outreach program is instrumental in encouraging a broad audience to make thoughtful and informed energy choices.
Public outreach programs work best when they are primarily anecdotal instead of technical. Describing sustainable measures and behaviors can influence what people do in their homes and workplaces. A well-designed public education and outreach program could include:
An interactive environment with educational displays, exhibits, energy generation and consumption monitors, videos, and other materials in an easily accessible public location, such as the NREL Visitor Center.
Informational tours highlighting the buildings' energy efficiency and renewable energy technologies.
News articles, press releases, and media events.
Feature stories in local and national journals, newspapers, and magazines.
Coverage on local and national broadcast and radio outlets.
Social network tools and informational videos on websites such as YouTube.
Fact sheets and case studies.
Community events, including those that are environmentally focused, such as Earth Day and Energy Awareness Month. Related activities can include an open house of the facility (where appropriate and in accordance with agency security protocols), or a sponsored booth featuring informational materials and facility experts on hand.
Information on Federal, state, regional, and local policies that affect research, development, and demonstration of renewable energy technologies.
Interagency Outreach
Outreach materials developed to be shared across Federal agencies should document processes and procedures that went into project planning, development, construction, and commissioning. Information on successes, barriers, challenges, and lessons learned is an invaluable education tool for other agencies planning to construct or renovate similar buildings.
In addition to developing materials that document the history of a project, it's important to develop a plan to disseminate the information. A website, such as this NREL site, is an excellent, easily accessible host to library materials. Conferences that attract a large number of Federal employees, such as GovEnergy, can be an excellent venue for presentations. Publishing articles in journals and magazines that target Federal agencies is another effective method of outreach. Reaching as broad of an audience as possible is key to achieving the highest impact. Examples of outreach materials for Federal agencies include:
Presentations
Case studies and fact sheets
Case studies and fact sheets
The design-bid-build project manual specific to your project
An in-depth report of the project from inception to completion, a comprehensive history
Best practices
Related Links
For additional information on outreach, see the FEMP Outreach and Awareness Campaigns for Federal agencies.