Project Construction Team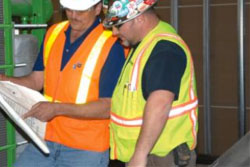 Assembling the right project construction team is crucial and begins with the request for proposal (RFP). Federal agencies create and RFP for construction services using construction documents developed during the final stage of building design.
Construction documents are the blueprints on which every project is built and will be used to generate bids for the construction phase of the project. Renewable energy will either be specified in detail in the construction documents, or the design and construction of certain renewable energy systems may be contracted separately with installation coordinated with the larger construction project.
Selecting the Construction Team
The successful contractor should have experience with integrating renewable energy into a larger project. In some markets, this may require the contractor to expand their typical team by partnering with a renewable energy firm. Where renewable energy construction is included in the overall project construction package, the responding team should include members with specific experience and certifications in each of the technologies to be installed.
As with choosing a design team earlier in the project, selection criteria are critical to the successful integration of renewable energy and should be based on best value rather than lowest cost. Otherwise, the proper experience and skills are unlikely to be available to carry out the design correctly.
Cases in which renewable energy contracts may be separate include projects with separate ownership, such as through renewable energy project funding or projects using a renewable energy engineering, procurement, and construction (EPC) contract (or in essence, a design-build contract) specifically for individual renewable energy systems. EPC contracts are often coupled with a performance guarantee so the contract winner must not only design, purchase, and install the system in question, but also guarantee that it will meet certain energy output requirements for the specified term of the contract.
Roles and Responsibilities
The general contractor plays a central role during the project construction phase. The general contractor is responsible for building the project according to the construction documents. The general contractor is chosen early in a project whether the project is design-build or design-bid-build.
When choosing a general contractor, it is important that they demonstrate the ability to carry out projects with renewable energy components. The general contractor should have a portfolio of work involving various renewable energy technologies and should be able to state in writing their capabilities related to renewable energy systems. In some markets, contractors may need to bring on additional resources or partners to meet these requirements, but renewable energy experience is important for integrated renewable energy project success. It is also important that the general contractor demonstrate work on projects with major energy efficiency features. Renewable energy is the focus of this guide, but energy efficiency goes hand in hand with renewable energy.
Subcontractors work under the general contractor and perform specialized work that the general contractor does not have the proper skill set to complete. It is common for subcontractors to install renewable energy systems because it typically requires specialized labor. In fact, in many instances, these specialized skills extend to the design of the system as well, and the agency or architectural and engineering (A&E) firm will choose to have renewable energy systems handled by a design-build type of subcontract referred to as an EPC contract. These can also be coupled with performance guarantees so the agency is guaranteed a certain energy performance from the system.
Depending on the region of the U.S., finding a proficient subcontractor can be an issue. It is important that the subcontractor has the preferred certification to install a particular renewable energy system. The following table lists the preferred certification for renewable energy system installers for various technologies.
Preferred Certification for Renewable Energy System Installers
Renewable Energy Technology
Preferred Certification for Installers
Passive Solar Thermal
Passive Solar Certification, Leadership in Energy and Environmental Design (LEED®)
Photovoltaics
North America Board of Certified Energy Practitioners (NABCEP)
Solar Hot Water
North America Board of Certified Energy Practitioners (NABCEP)
Wind
North America Board of Certified Energy Practitioners (NABCEP)
Biomass
Microgeneration Certification Scheme (MCS)
Geothermal Heat Pump
Certified GeoExchange Designer (CGD)
The energy lead needs to stay involved during construction and be a resource for any issues that arise that affect building energy systems. The commissioning agent is also available at this stage to identify integration issues that arise during construction. Both roles should have already been filled by experienced renewable energy professionals.