Planning, Programming, and Budgeting

During the initial phases of Federal new construction and major renovation projects, agencies inevitably ask the same question: When in the process should I start considering renewable energy?
The short answer is that it is never too early. Early decisions on goals, siting, budgets, and the members of the project team can greatly affect the agency's ability to effectively integrate energy efficiency and renewable energy into the project. It is important to note that incorporating renewable energy technology is just one of many goals that a successful project must meet, and that compromises may be required to satisfy multiple, competing objectives.
This overview introduces the pre-project planning, programming, and budgeting phases of the project process and provides links to additional information for each phase.
Because each agency uses different terminology for the early stages of project development, this guide uses some general terms for these early activities. This section discusses planning, programming, and budgeting.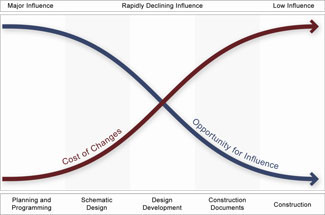 Planning involves the early scoping of a project when an agency is first considering building a new facility or undergoing major renovations on an existing one. This stage includes the community or master planning, site selection, and creation of a planning team, including identifying a project energy load. Planning also refers to the early feasibility and justification. This information is used to develop early budget assessments, preliminary scope, and implementation strategies.

Programming is the research and decision-making process that defines the scope of work. This phase involves a planning charrette and outlines goals and objectives for the project. This phase results in the initial architectural building program and the project specifications that guide the selection of the design team and proposal.

Budgeting covers the development and evolution of the project budget within the Federal budget formulation process. This phase is concurrent with the planning and programming phases as it informs and is informed by those activities. Budgeting for renewable energy sources includes economic justifications, incorporation of additional upfront costs, and the development of budget submissions for agency management, interagency review, and, in many cases, Congressional approval.

The budgeting phase is often discussed using other terms. This phase includes activities like developing a prospectus (for civilian agencies) or a DD Form 1391 (for defense agencies), as well as other agency-specific terms.