Renewable Energy Benefits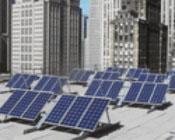 Renewable energy generates a range of benefits at the local, state, regional, national, and global levels. It uses natural resources, reduces greenhouse gas emissions, reduces U.S. dependence on foreign energy sources, and increases Federal energy security by minimizing Federal facility dependence on a vulnerable electricity grid. Renewable energy can also furnish long-term price stability as they rarely depend on costly fuel sources.
The environmental benefits of renewable energy technologies are extensive. For example, if a renewable energy system were installed on a typical 10,000-square foot office building to offset all electricity use (e.g., heating and cooling), avoided carbon emissions would roughly equal the combustion of more than 300,000 gallons of gasoline over a 25-year system life.
Renewable energy also supports economic development through job growth. The U.S. Treasury reports that, in the first 18 months of the renewable energy tax grant program that started in 2009, the manufacture and construction of solar projects that received funds under the program supported approximately 20,000 U.S. jobs in the solar industry alone.
The cost of renewable energy technologies continues to decrease. At the same time, performance continues to increase. Technologies that were once limited to niche applications are now often competitive with traditional energy sources.
The Federal government has an opportunity to transform markets by integrating renewable energy into sustainable building design and construction projects. More information on these opportunities is available in the Federal leading by example section.
Related Links
The Solar Energy Industries Association offers this fact sheet on job growth through solar energy.