Distributed Energy Resource Applications
Distributed energy resource (DER) systems provide a host of application benefits to Federal facilities, including:
Additional DER application resources are outlined below.
Improved Power Quality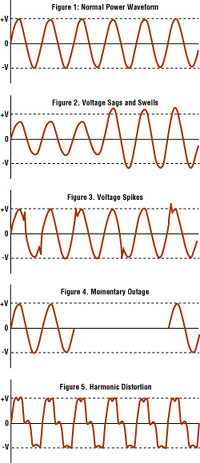 If not already done, Federal facilities need to address power quality. This holds particularly true for laboratories, research and development facilities, hospitals and clinics, data centers, and communications and control facilities. Where existing power quality equipment is outdated and inefficient, new DER technologies may offer improved efficiencies and more environmentally benign operation.
Electronic equipment such as computers, adjustable-speed drives, and motors can be highly susceptible to changes in power quality. Although the power generated by an electric utility starts out as a clean 60 Hz sine wave, load and generation changes, equipment switching, and electronically controlled loads on both the customer and utility sides can each disturb the electrical waveform. This is shown in the illustrations at right.
Some symptoms of poor power quality include:
Voltage sags and swells, which is when the voltage is too high or too low for a period of several cycles to several minutes.
Voltage spikes, which are sharp, randomly occurring pulses in voltage.
Momentary outages causing complete interruption of electricity service for up to five minutes.
Harmonic distortions in which harmonic frequencies produce a variation in the pure sine wave.
Some DER technologies such as uninterruptible power supplies (UPS) and other distributed storage devices are designed specifically to address these power quality issues. Most DER technologies can improve power quality, even if they were installed for a different purpose.
Standby Power
Facilities with frequent electrical power outages or a relatively long service restoration time can be labeled with low power supply reliability. A standby power DER system may provide a solution.
Cellular communications companies, airline reservations, and credit card and brokerage operations indicate that power outages can cost tens of thousands to millions of dollars per hour. At your Federal facility, what losses are incurred due to power outages? Lost research time; lost data or specimens; damaged equipment? Can you place a cost on the facility downtime due to a power outage? If so, DER systems designed to provide backup or standby power on an as-needed basis may be cost-effective.
Another option is installing a DER system for dedicated power to mission-critical loads. In this scenario, the power generation equipment would run in a baseload mode, providing prime power for critical programs, facilities, or equipment with the grid acting as a source of backup energy.
Federal facilities that could benefit the most from standby power DER systems include:
Research and development facilities
Laboratories
Hospitals and clinics
Schools.
Data, communications, and control centers should also consider standby power to avoid costly data loss or hazardous communications outages. DER systems can also power mission-critical loads to enhance energy security at defense installation facilities.
Peak Shaving
Most commercial facilities are charged a higher rate during hours of peak energy use based on the local utility's time-of-use rates or capacity constraints. This peak demand charge is incurred monthly, based on the highest peak usage rate of the facility, even if it's only for a few hours. In certain areas and for certain facilities, peak demand charges can make up most of the electric bill. Strategically controlling these peak demand charges by using DER can generate significant cost savings. This is called peak shaving.
Federal facilities paying high peak demand charges should consider using DER technologies to offset those energy costs. This is also true for facilities located in areas suffering from severe capacity constraints.
DER technologies will be used between 200 to 2000 hours per year, so it is necessary to evaluate the trade-offs between capital cost and system efficiency. Also consider long-term fuel supply and costs when selecting an appropriate peak-shaving DER technology.
Peak shaving can benefit the customer by saving money; the utility by offsetting the need for costly generation or distribution upgrades; and the community by reducing or eliminating the potential for rolling blackouts or brownouts at times of peak energy use.
Low-Cost Energy
In today's rapidly changing utility industry, DER systems can hedge against electricity cost fluctuations. At the same time, they provide power quality, reliability, and enhanced energy security. Utilizing renewable energy DER technologies and combined heat and power systems can bring about further fuel supply and cost benefits.
Federal facilities located in areas with high fuel or electric costs should consider using DER systems to reduce energy costs at their site. Federal agencies can target facilities in states that offer incentives for using DER. State and local programs, utility rebates, and other financial incentives can lower the first cost of some DER technologies in certain areas. The FEMP DER Bulletin on Sources of Financial Assistance and Information provides additional details (PDF 226 KB).
California, for example, offers substantial rebates for certain DER systems to offset electricity consumption growth in the state. Net metering programs, now offered in 30 states, allow a facility's electric meter to spin backwards so a facility pays only for the net electricity used. DER can provide a low-cost energy alternative to central-generation electricity, particularly when financial incentives such as these are considered.
For more information on state, local, utility, and selected Federal incentives for renewable and distributed energy systems, see the Database of State Incentives for Renewable Energy (DSIRE).
Standalone Systems
DER systems can be most cost-effective in areas where grid-supplied electricity is not available or is too costly to access. The cost of extending grid lines can be significant, ranging anywhere from $10,000 to $40,000 per mile depending on the location. For this reason alone, DER technologies can be comparatively inexpensive for standalone systems in comparison to other applications.
DER can also provide other benefits when facility managers are considering standalone (off-grid) versus grid-connected systems:
DER systems provide fuel flexibility to match the fuel availability of the location.
Renewable energy systems can lessen or avoid reliance on fossil fuels, reducing or eliminating the adverse effects of fuel spills that can occur during fuel transportation and storage.
DER systems can provide significant operation and maintenance savings at sites where the cost of maintaining grid lines or distribution equipment is high.
Grid lines may be unaesthetic or detract from an otherwise pristine view. In those cases, DER systems can be an on-site generation solution to improve aesthetics and reduce noise.
Some DER systems generate electricity without producing harmful emissions. Other DER systems provide energy with substantially reduced emissions in comparison to traditional central generating stations.
Hybrid systems are often the best approach for standalone applications. They can increase reliability and redundancy to protect against outages. When renewable energy technologies are used, for example, batteries are required to provide power on cloudy days or when the wind doesn't blow. A backup engine generator may also be required depending on the needs of the site. For these reasons, standalone DER systems may be more costly than grid-connected systems on a per-kilowatt-hour basis. However, compared to the cost of grid extensions, DER can often be the most economical choice.
The National Renewable Energy Laboratory (NREL) has developed a software tool designed specifically to optimize renewable hybrid energy systems. HOMER, the Hybrid Optimization Model for Electric Renewables, is downloadable from the NREL Web site.
The National Park Service, Fish and Wildlife Service, Forest Service, and Federal Aviation Administration are examples of the best Federal opportunities for off-grid DER systems. Off-grid facilities that need electric and thermal energy can include comfort stations; visitor centers and kiosks; data, radar, and communications systems; signage; field stations; and guard shacks.
For more information on successful standalone DER systems, case studies are available on Pinnacles National Monument (PDF 183 KB), Joshua Tree National Park (PDF 151 KB), and Channel Islands National Park (PDF 209 KB).
Combined Heat and Power
Combined heat and power (CHP), also known as cogeneration, can provide thermal energy for buildings or processes while simultaneously generating part of the electricity needed at the site. See CHP Basics for more information.
Additional Resources
Additional application resources are available on the DOE Industrial Distributed Energy Web site.